Northampton Castle railway station new look designed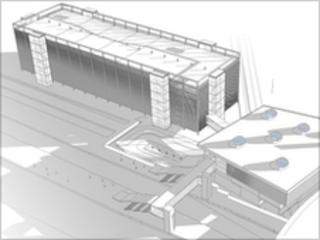 Detailed plans for the redevelopment of a railway station in Northamptonshire are to be drawn up following the appointment of a design team.
Northampton Castle will have a new station building and multi-storey car park, West Northamptonshire Development Corporation (WNDC) said.
Hyder Consulting, which has worked on Sydney Harbour Bridge and Tower Bridge in London, will design the station.
The plans include a new footbridge and approach roads.
WNDC said the new station would run a greater number of rail services.
"Studies show that Northampton Station is already at capacity during peak hours, while the station building and its associated facilities are out-of-date, and a constraint to economic growth," WNDC said.
Later phases of the scheme would include a commercial development on land surrounding the station, it added.
Northamptonshire County Council has pledged £350,000 towards the project, with WNDC contributing £900,000.
WNDC chief executive Peter Mawson said the new station would be a "much more inspiring gateway to Northampton".
Hyder's managing director for rail, Mac Alghita, said it aimed to delight WNDC, Network Rail and the people of Northampton.
The outline design phase is due to be completed by the end of 2010.