Sri Lanka denies deal with 'rump Tamil Tigers'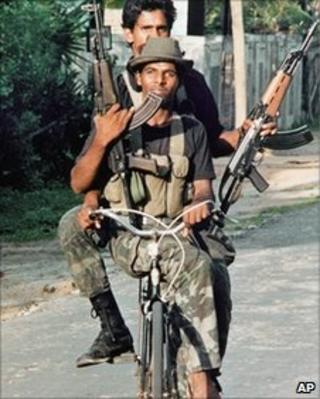 Sri Lankan Defence Secretary Gotabhaya Rajapaksa has denied reports that the government is forming an "alliance" with the "rump" of the Tamil Tigers.
The rebels, known as the Liberation Tigers of Tamil Eelam (LTTE), were defeated by the army last year after more than two decades of war.
Mr Rajapaksa told the BBC that he had recently met a group of "pro-LTTE" diaspora Tamils in Sri Lanka.
He said that the talks had passed off successfully.
Mr Rajapaksa said that a detained senior LTTE leader had helped to arrange the visit.
A diaspora representative has confirmed that the group suddenly got an opportunity to visit Sri Lanka and discuss issues of humanitarian concern.
War crimes
Mr Rajapaksa said the visitors were a group who realised there was no purpose in continuing to confront the Colombo government and that they now preferred to work with it for the benefit of the Tamil people.
"We want to work with as many groups as possible," he said.
The visitors had gone to the former LTTE strongholds of Jaffna and Kilinochchi and held discussions on "all the improvements, the good and bad things", he said.
Mr Rajapaksa said that detained LTTE leader Selvarasa Pathmanathan - also known as KP - co-operated with officials to contact the diaspora delegation.
He said diaspora members were also active in initiating the trip.
He said they met Mr Pathmanathan but denied that Mr Pathmanathan accompanied them on their visit to northern Sri Lanka.
There have been some claims that Mr Pathmanathan is even being groomed for government office or is no longer in detention.
Last week a government spokesman said the authorities were considering using him as a pro-government witness in case charges of war crimes were levelled against them.
But Mr Rajapaksa has denied he is moving about freely.
Yet one of the diaspora visitors, Charles Antonidas of the Tamil Health Organisation, told the BBC Sinhala service that Mr Pathmanathan was playing a leading role in helping with the "reconciliation process" after the end of the war.
The biggest Tamil party in Sri Lanka, the Tamil National Alliance (TNA) which is traditionally pro-LTTE, has sharply criticised recent developments.
One of its MPs, Suresh Premachandran, said it was "a shame" that a government which had described Mr Pathmanathan as a "wanted terrorist" now sought to have him defend its own actions.
But Gotabhaya Rajapaksa said the visit showed that some of the diaspora wanted to invest in rebuilding and continuing a dialogue.