UK reporter held over World Cup dressing room intrusion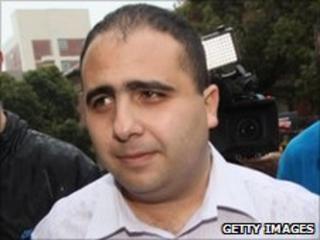 A British journalist is being held over the England World Cup dressing room intrusion, South African police say.
National police commissioner Bheki Cele said the Sunday Mirror's Simon Wright had been arrested.
The Sunday Mirror confirmed Mr Wright had been arrested but said any suggestion by police that the trespass was orchestrated was "entirely false".
Pavlos Joseph, 32, from London, is accused of entering England's dressing room after the Algeria match.
His case has been adjourned until 30 June.
Mortgage adviser Mr Joseph was discovered in the England team's dressing room in Cape Town's Green Point stadium on 18 June.
'Legitimate story'
He claims he chanced upon the team while looking for a toilet, but the fan exchanged words about England's performance with former captain David Beckham before he was escorted out of the room.
Mr Cele said Mr Wright had been arrested for "defeating the ends of justice and flouting the provisions of the Immigration Act".
He said CCTV footage had given police "reason to believe the incident was orchestrated".
"The police strongly believe the motive was to put the World Cup security in a bad light, and possibly to profit from this act.
"Mr Wright has admitted to harbouring and interviewing Mr Pavlos Joseph at a time when the police were searching for the latter in order to effect an arrest.
"The second criminal charge against Mr Wright relates to his alleged conduct in booking luxury hotel accommodation for Mr Joseph using false or incorrect particulars," he said.
Security revised
Brigadier Sally de Beer of the South African Police Service said: "Simon Wright, 44, was arrested on [Monday] morning at 8.25am at Cape Town international airport.
"He appeared in a World Cup court in Cape Town [on Monday] night at 11pm.
"He was granted 3,000 rand bail and will appear again on [Wednesday] morning."
But a Trinity Mirror spokesman said Mr Wright "was engaged in a legitimate story for his newspaper".
"Any suggestion that he or the newspaper was involved with Pavlos Joseph before he entered the England dressing room is entirely false," he said.
Mr Joseph appeared at a World Cup court in Cape Town on Friday, but a solicitor requested an adjournment while the defence awaited CCTV footage from inside the stadium.
Since the incident, South African police have revised security procedures at all stadiums.