North Korean leader's son Kim Jong-un 'in parliament'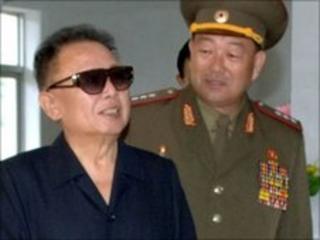 North Korean leader Kim Jong-il's son has been a member of parliament since last year, South Korean reports say.
The move is being seen as further evidence that Kim Jong-un is being prepared to take over from his father as leader of the secretive state.
His name had been absent from a list of deputies elected in March 2009, leading to doubts about the future leadership.
The succession is closely watched from abroad, over fears about the North's nuclear programme.
South Korea's Dong-a Ilbo newspaper quoted an unnamed Western intelligence source confirming Kim Jong-un's presence in the North Korean rubber stamp parliament.
He was reported to have been appointed in constituency 216, to correspond with Kim Jong-il's birthday on 16 February.
His name was not on the official list of deputies elected last year, which North Korean analysts said suggested he could have run under an alias or been appointed without election.
Earlier reports had suggested Mr Kim's youngest son was the front-runner to replace the ailing 68-year-old leader.
Analysts have linked the recent sinking of a South Korean warship, the Cheonan, allegedly by a North Korean torpedo, to the succession.
"Part of the skirmishes that are going on are in part related to trying to establish credibility for the son. And that makes it a dangerous period," said Leon Panetta, head of the US Central Intelligence Agency.
North Korea's ruling communist party is to hold a rare meeting of its political bureau, state media have said.
The session will be held in September to select new leaders for the Workers' Party of Korea (WPK), the North Korean Central News Agency said.