Indonesia militant jailed over Jakarta bomb attacks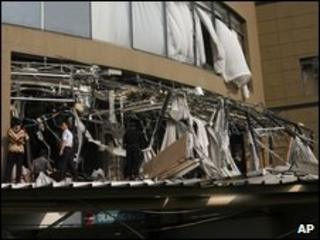 An Indonesian militant has been jailed for five years over the deadly attacks on luxury hotels in Jakarta last year.
Mohammed Jibril Abdurahman, also known as the Prince of Jihad, was convicted of hiding information about terrorist crimes and falsifying documents.
Abdurahman maintained the charges were "fabricated" and said he would appeal.
The JW Marriott and Ritz-Carlton hotel bombings killed seven people and two suicide bombers and ended a four-year hiatus in attacks in Indonesia.
Women in black Islamic robes shouted abuse at the judges as the sentence was handed down in the South Jakarta district court.
Abdurahman was found guilty of using a false passport to travel to Saudi Arabia to raise funds with Saifuddin Zuhri, the alleged co-ordinator of the 17 July attacks.
Chief judge Haryanto said Abdurahman had met Zuhri and alleged regional terrorist mastermind Noordin Top on several occasions before the bombings but had not alerted the authorities to their whereabouts.
"It was a clear and obvious fact in Indonesia that those figures have committed terrorism on behalf of jihad," Mr Haryanto told the court.
"The defendant concealed information about their movements as they spread terror and hatred."
Anti-terror measures
Before his arrest, Abdurahman was well known for publishing a popular radical Islamist website under the online name Prince of Jihad.
The son of a radical cleric, Abdurahman studied at an Islamic boarding school in Malaysia. He first met Noordin Top, who allegedly became his teacher, in 1998.
Indonesia has suffered a number of bomb attacks - mainly linked to the militant group Jemaah Islamiah - in recent years.
Attacks on two nightclubs in Bali in October 2002 killed 202 people, most of them Australian.
The Marriott Hotel was the target of a bomb attack in August 2003 in which 12 people were killed.
Indonesia has introduced a combination of new laws, anti-terror training, international co-operation and reintegration measures to tackle extremism.