Bodies found at landslide site in China's Guizhou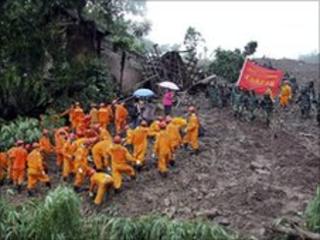 Teams searching for about 100 people buried by a landslide in south-west China have found three bodies, as hopes of finding survivors fade.
Ninety-six people remain unaccounted for in the wake of Monday's landslide, which was caused by heavy rain.
More than 1,100 rescuers have been digging through the swathe of mud and rocks in Dazhai village in Guizhou province.
One official said that rescue efforts were proving difficult.
The landslide buried 30 buildings in the village under 100,000 cubic metres of mud.
Rescuers have been working in heavy rain, amid a risk of further landslides.
"The rescue work is going on with difficulties. I can only tell you we are trying our best," an official who did not want to be named told AFP news agency.
Officials had initially said that 107 people were missing, but revised that total down to 99 as some were found alive elsewhere.
Relief supplies including tents, quilts and food had been sent to help the villagers, Xinhua news agency reported.
Torrential rain
The landslide followed weeks of heavy rain that has triggered floods in southern and eastern China.
At least 235 people have been killed and more than 100 are missing, with an estimated 2.4 million people displaced.
Nearly 69 million people across China have been affected by the heavy rains, officials said on Sunday.
The disaster has led to power cuts, collapsed reservoirs and widespread damage to roads. Millions are without drinking water.
The floods are among the worst in southern China since 1998, when more than 3,600 people were killed and more than 20 million were displaced, Xinhua reports.