East Timor war crimes loophole must be closed - Amnesty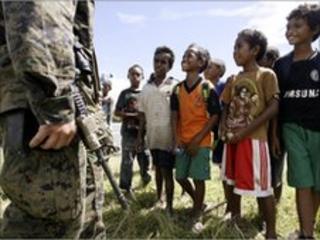 Amnesty International says East Timor needs to close a legal loophole in its penal code that allows alleged war crimes to go unpunished.
The human rights group says this loophole will damage the young nation's legal system and discourage those looking for justice.
East Timor gained its independence from Indonesia in an historic referendum in 1999.
But thousands of Timorese lost their lives in related violence.
Amnesty International says East Timor's penal code contains a loophole that allows those deemed guilty of war crimes during Indonesia's occupation of the country from 1975 to 1999 to go unpunished.
Justice lacking
The human rights organisation adds that there is a culture of impunity being created in East Timor as a result of the gap in its justice system.
East Timor is the world's youngest nation. But it is also one of the poorest countries in the world, despite having rich natural resources.
It is struggling to put together a government and a judiciary after decades of Indonesian rule.
An independent report commissioned by the United Nations said that at least 100,000 Timorese died as a result of Indonesia's 25-year occupation, which ended in 1999.
That year East Timor voted in favour of independence from Indonesia in a UN-sponsored referendum.
In the lead-up to the vote and immediately after, thousands of Timorese were killed as militia loyal to Indonesia tried to intimidate them against voting for their freedom.
It is believed that many of those suspected of such crimes are living in Indonesia.