Ashford bank raid hostage speaks of gun ordeal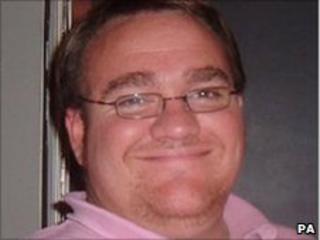 A man who was among a group of people held hostage for three hours at a Surrey bank says a gun was put against his head.
Dan Beedell, 31, was paying money into Barclays Bank, Church Road, Ashford, when it was raided shortly before 1600 BST on Monday.
He said the gunman told people to put on boilersuits so they looked like him.
A man in his 30s was arrested after hostage negotiators were called and is in custody, Surrey Police said.
It is thought up to 15 people were held hostage.
Mr Beedell, a youth pastor, went into the bank with a friend to pay in money which had been raised by Ashford Baptist Church to fund a new building.
He said a gunman entered the bank wearing a white boiler suit and dust mask, shouting "everyone get down on the floor".
Mr Beedell said: "He started shouting at people. He threw a lot of boilersuits out so we would look like him.
"I managed to get half of my boilersuit over my head. He came up behind me and put the gun back to my head and said 'put it on'.
"The most bizarre thing was that it suddenly seemed to fit. Then he wanted money and was obviously threatening people."
Mr Beedell said the bank manager and staff remained "incredibly calm".
He added: "I guess I was calm as well. When he had the gun at the back of my head, I wasn't panicking, I wasn't thinking I'm going to die."
Mr Beedell said police helicopters could be heard within 10 minutes of the gunman entering the bank.
He said at one point the man offered the hostages alcohol and cigerattes because he wanted them to be "calm and relaxed" but he could not find his lighter.
'Immensely relieved'
The negotiators made contact with the gunman, who came out of the bank just after 1900 BST.
Mr Beedell, who was wearing a boilersuit, said: "The armed officers didn't know who I was - I was cuffed and I fully understand the reasons for that.
"Actually I thought the police handled it well."
He added: "Although it was a tough and traumatic experience, no-one was physically hurt and each of us gets to get on with our lives."
Supt Duncan Greenhalgh said it had been a fast-moving incident and officers were on the scene "within minutes".
"This was obviously a very traumatic experience for those members of the public and bank staff caught up in it," he said.
"I am extremely pleased with the quick and effective response from officers who brought this situation to a close without injury to anyone, including the suspect."
Tim Kiy, Barclays corporate affairs director, thanked Surrey Police for their role in the "swift and successful outcome".
"We are immensely relieved and happy that all those involved are now safe and able to be reunited with their families," he said.