US Supreme Court rejects appeals in tobacco case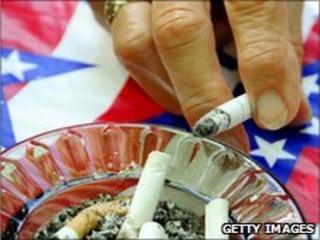 The US Supreme Court has rejected an appeal by the federal government in a long-running case in which it sought huge damages against tobacco firms.
The US government was appealing against a lower court ruling that it could not take $280bn (£185bn) of tobacco firms' profits to help people quit smoking.
The court also rejected an appeal by the tobacco industry against a ruling that it had violated racketeering laws.
Tobacco shares rose on news of the first ruling.
The top US court rejected the federal government's attempt to make big tobacco forfeit up to $280bn in damages - in a seizure of profits called disgorgement - and fund a national anti-smoking programme.
The tobacco companies involved in the case are Philip Morris USA, Altria Group, RJ Reynolds Tobacco, British American Tobacco Investments, and Lorillard Tobacco.
The US government says these companies collectively control 85% of the US cigarette market.
"Although we are disappointed that the Supreme Court did not grant our petitions challenging the basis for the lawsuit, we are pleased that the Supreme Court has confirmed once again that disgorgement is not an available remedy," said Murray Garnick, of Altria Group.
The suit was originally launched by former President Bill Clinton's administration in 1999.
'Defraud the public'
The Supreme Court also rejected appeals from the tobacco industry seeking to overturn a 2006 ruling which found it had violated racketeering laws by misleading smokers over health risks.
In 2006, US District Judge Gladys Kessler ruled that nine tobacco companies attempted to defraud the public through denying the health effects of smoking, concealing evidence that nicotine is addictive and attempting to sell cigarettes to young people.
In its appeals, the federal government said the tobacco industry's "deception has cost the lives and damaged the health of untold millions of Americans".
A federal appeals court in Washington later upheld most of Kessler's findings and found large tobacco companies liable in the case.
But in both instances, the courts rejected the government's attempts to withhold money and said the federal law did not give courts power to order a national anti-smoking program.