Riptide man airlifted after hour in sea off Cornwall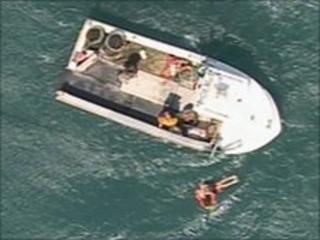 A man has been rescued off the coast of north Cornwall after being washed out to sea by a riptide.
It is believed the 57-year-old holiday-maker was caught in the tide while trying to help his children from the water at Strangles Beach near Bude.
He spent about an hour in the water before he was pulled out by a fishing vessel and picked up by a rescue helicopter from RMB Chivenor.
He was said to be suffering from the cold, but was otherwise unhurt.
Search and rescue paramedic Sgt Ryan Thomas, who was on board the helicopter, said: "He said that he was trying to swim but it was just to no avail.
"He said that when he lost sight of the beach he thought that his time was up."