Suspects in bizarre Guatemala murder case surrender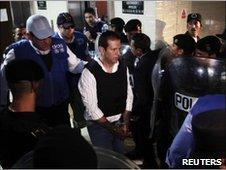 Two Guatemalan brothers who allegedly helped a prominent lawyer organise his own murder, and then blame the president of Guatemala for the crime, have turned themselves in.
Francisco and Jose Valdes Paiz were said to have hired a contract killer to murder Rodrigo Rosenberg.
An international commission found in January that Mr Rosenberg had organised his own killing.
He is said to have wanted to highlight unsolved murders in Guatemala.
Before he was shot dead in May 2009, Mr Rosenberg had warned in a video that he would be murdered on the orders of President Alvaro Colom. Mr Colom was later exonerated.
Police had been searching for the two brothers since December, when they first linked them to the murder of Mr Rosenberg.
A United Nations investigation found that Mr Rosenberg had told the Valdes Paiz brothers, who were his cousins, he was being blackmailed and needed their help to hire a contract killer to murder the blackmailer.
The pair allegedly hired the killer and, following Mr Rosenberg's instructions, told the killer where and when he could ambush the blackmailer.
But it was Mr Rosenberg who then appeared at the time and place given to the contract killer, and had himself shot, the commission found.
Speaking in January, the then director of the UN commission Carlos Castresana said he believed Mr Rosenberg had been depressed and had wanted to highlight the thousands of murders which go unsolved and unpunished in Guatemala every year.
BBC Mundo's Julie Lopez in Guatemala says the allegations Mr Rosenberg made in his video against President Colom threw the government into a deep political crisis.
Our correspondent says that even though President Colom was cleared of any involvement in Mr Rosenberg's murder, the allegations have left a deep rift in Guatemalan society. She says many people believe the brothers Valdes Paiz have been falsely accused.
The UN commission said the brothers had handed themselves in voluntarily. A hearing has been scheduled for 5 July.
Related Internet Links
The BBC is not responsible for the content of external sites.