Derby's Council House could be virtually 'rebuilt'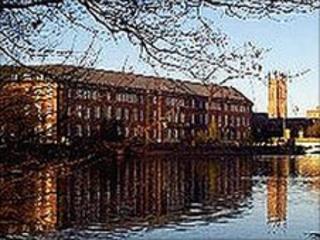 Derby City Council is set to unveil a £33m plan to "rebuild" its aging Council House.
Under the proposals, the World War II building would have its insides stripped out, leaving only the facade.
And an extra storey would be built along with an atrium and a new council chamber.
The changes are designed to allow staff to work more flexibly and efficiently, and will see the building's capacity rise from 500 to 1900 people.
Councillor Mike Carr, who will chair a committee meeting about the plans later on Tuesday, said the architects had envisaged a virtual "rebuilding" of the council's headquarters on Corporation Street.
"It will be stripped out, and a major overhaul, rebuilding is probably the best term, will commence," he said.
"It will involve building inside the courtyard, a new atrium and open plan offices.
"Then after two years, all the staff will move back into exciting accommodation.
"We have always been expecting this, so we've squirreled away the money."
The building, which was completed at the start of World War II, is running up high maintenance costs and creating high levels of CO2 emissions because of its poor insulation.
But energy efficiency is not the only reason for the changes.
Increase efficiency
The council's chief executive, Adam Wilkinson, has said he wants to encourage some employees to work from home and stop using paper in order to increase the efficiency of staff.
Earlier plans for a £20m renovation and a move to a new site appear to have been ruled out.
But unions are annoyed at being left out of the changes.
"It is quite disappointing," Nicole Beresford, from UNISON, said.
"We met them last Thursday and there was no mention of this. It seems a lot of plans are being made behind closed doors."
A council spokesperson said: "We have invited union representation.
"They have been involved in some specific decisions about the new building such as the specification of the desks and chairs."
The plans will be presented to city councillors at a meeting on Tuesday night, with staff expected to vacate the building by the end of 2010.