'Forgivable' loan plan for medics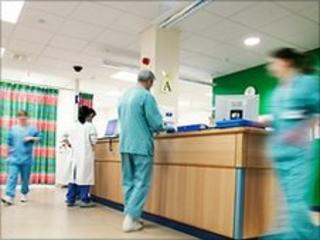 Future doctors could be willing to commit themselves to the NHS in return for having some debt paid off, medical students say.
The BMA is proposing the change, dubbed "forgivable loans", as a way of attracting a more diverse range of people to the profession.
A typical medical degree costs more than £50,000, which deters people from poorer backgrounds, says the union.
The government said it was looking at support for medical students.
The British Medical Association (BMA) said medical courses were dominated by students from professional and managerial backgrounds.
The four bottom socio-economic groups contribute just 13% of students, according to the latest BMA figures, despite representing more than half of the UK's population.
This compares to about a third for other degrees.
The BMA believes this problem is directly linked to money.
Those becoming medical students today face average debts of £37,000 when they finish after paying for course fees, food, travel and accommodation - and that is after they get £16,000 from other sources such as parents and part-time work.
Tom Foley, 28, from Newcastle, who is the co-chairman of the BMA's medical students committee, said he accepted that university education was no longer free.
"I am lucky that my parents were able to help me out, not everyone has that.
"The thing about forgivable loans is that it creates a link between the student and the NHS.
"We could say to somebody when they are 16, become a doctor and you won't have to worry about having a huge loan.
"And we would argue that if you can keep people in the NHS as long as possible, it's good for everybody."
Compassion
He added some doctors currently left the NHS to work overseas, to take different jobs or pursue different courses, which was a waste of their training and taxpayers' money.
"People like that would be encouraged to stay in the NHS."
The union is not proposing for how long a doctor should be committed to the NHS or how much of their debt they should have paid off, but instead is calling for the government to support the principle.
Dr Helena McKeown, a GP from Wiltshire who helps train students, supports the move.
She believes it could even help improve the quality of doctors.
"By widening participation you can get better health care. What we need amongst our doctors is people who can communicate, who are compassionate and intelligent and who will make the best doctors.
"People from poorer backgrounds can play an important role. They understand the communities they are from the best."
A Department of Health spokeswoman said: "The department is currently examining the system of support for medical students, as well as students in other healthcare related disciplines. We will make proposals in due course."