Gulf storm Alex 'may delay BP oil capture'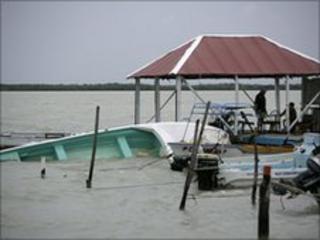 Plans to increase the amount of oil being captured from a leaking well in the Gulf of Mexico could be set back by a tropical storm, BP has said.
However, a relief well being drilled to staunch the flow is on target to be finished by early August, a senior BP executive said.
BP says the cost of cleaning up the slick has reached $2.65bn (£1.76bn).
Tens of thousands of barrels of oil have leaked every day since the Deepwater Horizon rig sank in April.
A containment cap placed over the leaking pipe is collecting up to 25,000 barrels a day and sending it to two surface ships.
BP had hoped to collect up to 53,000 barrels a day by linking up another vessel, but Kent Wells, the firm's senior vice-president of exploration and production, said that conditions caused by Tropical Storm Alex would cause problems.
The expected heavy seas could cause a delay of up to a week in hooking up the new oil capture system, Mr Wells said at a briefing.
"While we are on track for the end of June, it will be roughly a week after that, the 6 or 7 of July," he said.
Relief well
Alex is slowly intensifying and is expected to strengthen into the first hurricane of the Atlantic season, the US National Hurricane Center has said.
Forecasters expect the storm to come ashore near the Texas-Mexico border early on Thursday.
Mr Wells said that a relief well - believed to be the best hope of plugging the leak - was now within about 20ft (6m) horizontally of the blown-out well.
Crews would drill another 900ft (274m) downwards before cutting sideways into the leak and starting to pump in heavy mud to try to stop the flow of oil, he added.
A second relief well is being drilled as a back-up.
BP says more than 39,000 people are now involved in the response effort.
The spill has closed fishing grounds, killed wildlife and affected the coastlines of four US states.
On Sunday, oil began washing ashore at the Mississippi resort town of Biloxi, forcing tourists to leave beaches.