NUM 'lack of cash' for ex-miners' legal fight in Wales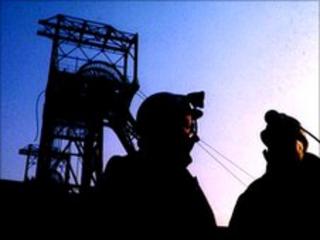 Former Welsh miners may lose out on compensation after their union in Wales said it could not afford to back them.
The miners are fighting to claim for osteoarthritis of the knee through the National Union of Mineworkers in Wales.
Ex-miners in England and Scotland will get a chance to claim compensation because their NUM branches have put in money to back the legal fight. 
The South Wales NUM said it supported the ex-miners, but did not have the funds to back the claims.
The former miners in Wales are represented by either North Wales NUM or South Wales NUM areas but neither is involved in the "miners' knee" case.
However, some 1,000 former NUM members in the south alone want to claim.
'Donkeys' years'
Keri Webb, who worked at the Coedely colliery near Llantrisant for 50 years, told BBC Wales' Week In Week Out programme he had been left angry and disappointed by the South Wales NUM decision.
He said: "To be honest, it's pathetic. We had more pits than anyone else for donkeys' years - and yet the NUM in other places can help their areas but NUM South Wales can't.
"Why can't they find the money to help us out?"
Without union backing, most of the ex-miners will lack the funds to take the case to court.
Wayne Thomas, general secretary of South Wales NUM, said the union simply did not have the funds to get involved.
He said: "We do support it wholeheartedly but we are not in a position financially to back it.
"We did realistically consider contributing £100,000, but that would have been our limit.
"But when we discussed the options with other areas it was clear we couldn't take that risk and jeopardise the work we are already doing in the communities where we represent the members."
The claim for miners' knee is not the only legal case being taken forward by former NUM members in Wales.
Former cokemen at the Phurnacite plant in Abercwmboi in the Cynon Valley, where coal was turned into smokeless fuel, believe their work left hundreds with deadly cancers.
But again the workers have to take their claim to court without the support of the NUM.
Malcolm Cook, who helped form the Phurnacite Justice Action Group, said the NUM Cokemen's Area declined to join their fight.
It is a claim the NUM Cokemen's Area denies, although it admitted it was not involved in the legal case.
Week In Week Out: Tuesday, 29 June, BBC One Wales, 2235 BST.