Cardiologist's motivation 'was notoriety and fame'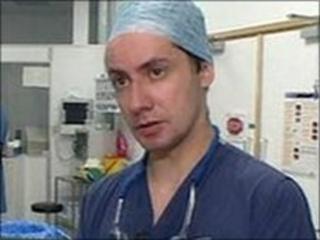 A heart specialist was motivated by ambition and fame and put patients at risk, a misconduct panel has been told.
Dr Joe Motwani faces 30 allegations relating to the treatment of 24 patients between 2003 and 2007.
The General Medical Council (GMC) hearing in London was told one man died undergoing an operation he should never have had.
Dr Motwani, who has worked at Derriford Hospital in Plymouth since 1999, denies the allegations.
'A machine'
The allegations include acting in a manner "not clinically appropriate" for some patients, and, in some cases, acting in an unethical way, risking their cardiac conditions.
The cardiologist became well known as a pioneer of transradial angioplasty, a procedure to clear blocked coronary arteries by inserting a wire in a patient's wrist.
The GMC was told that he pushed this new treatment on to patients instead of offering them alternatives of heart surgery or drug therapy, which may have been more suitable for them.
The panel heard that one patient died during an operation he should not even have been having and that Dr Motwani did so many such procedures that he boasted to other hospital staff that he was "a machine".
The hearing was told that he was an accomplished cardiologist, was very hard working and had a passion for his speciality.
But he gave colleagues the impression that "his primary motivation was notoriety and fame" and he was at least partly motivated by misplaced personal drive, over-enthusiasm and inappropriate personal ambition, Andrew Hurst, for the GMC, told the hearing.
The hearing was told that this ambition sometimes overrode his clinical judgement, making him a risk to his patients.