Will the Times save the newspaper industry?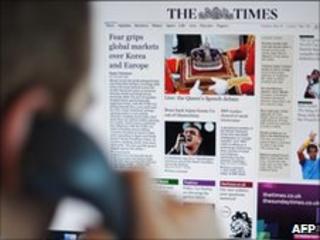 From now on if you want to read the Times or Sunday Times online it is going to cost you.
The papers' owner, Rupert Murdoch, has decided that the era of free online content is over.
There is no shortage of pundits to say he has made a mistake. But will other papers around the world follow suit?
Once newspaper finances appeared straightforward. Newspapers were funded in part by their cover price but chiefly through advertising.
By the mid-1990s papers were setting up websites but essentially as freebie tasters for the real product.
Since then newspaper circulations have been sliding while online readership has climbed.
Yet online advertising brings in only a small percentage of what print ads used to make.
In 2005 the New York Times decided to make its online readers pay for opinion and comment pieces (but not for basic news).
Risky move
Many readers resented it - though not half as much as the NYT's star writers did.
They felt excluded from a national debate which they had grown accustomed to leading. After two years TimesSelect was dropped.
Aside from specialist financial news the debacle seemed to spell the end of paid-for journalism online. Until now.
Journalist Danny Finkelstein cannot resist adding to his blog as he sits in his office at Times House in London.
But his new job as the paper's 'Executive Editor, Digital' is to ensure the revamped website will get people to pay £1 a day for it (or £2 per week).
"We want to charge a fair price so we can sustain the sort of work we do. We have offices around the world and a big news operation. It needs to be on a sound financial footing and this is part of doing that."
It is obvious that any newspaper erecting a paywall will lose much of its readership - some say up to 90%.
Finkelstein says the point is to keep loyal readers who like the package enough to pay.
"The newspaper we're putting online now is more characterful than it was. It relies on star columnists, features and opinions. But that's where we've always excelled on the Times.
"This is a bold move. No one's done this before in the serious way we're doing it. Yes it is a risk. But if I was going into battle behind anyone it would be Rupert Murdoch. He's taken bold decisions before and his view is that as a content-led company News Corporation must be first in asserting that content deserves a fair price".
Rupert Murdoch, 79, was not always so convinced about charging for general news online. But since buying the Wall Street Journal he has been impressed at the number of people prepared to subscribe to its online edition.
His critics point out that WSJ subscribers (and those of the Financial Times) are mainly well-heeled and content to pay for their economic news and analysis.
But what seems also to have changed Mr Murdoch's mind is the arrival of e-readers. He thinks their portability and convenience mean people are now ready pay for online news.
And not just business people: earlier this year he speculated about putting parts even of the tabloid New York Post behind a paywall.
Rivals following suit?
"There are groups of people, mainly women, who just live on Page Six [the Post's gossip column]," he said.
"And a much bigger group of people recognise it's got the best sports coverage. They'll buy it. We can make it a very attractive economic package."
The wall would be undermined totally if people could use search engines to find Times material elsewhere.
News Corporation is confident they have ways to stop this. The paywall is designed to be 100% with no teaser paragraphs and no free samples.
Professor Bill Grueskin of the Columbia School of Journalism, New York, used to run the WSJ's online edition. He says his old employer does offer a model for others - up to a point.
"When I left in 2008 the Wall Street Journal had around 1.1m online subscribers paying about $100 a year," he said.
"That's a lot of money but it doesn't come close to paying for the entire newsroom.
"There is a hugely important role for our democracy in independent, fact-based, substantiated journalism. I care less about who does it than that it continues to get done. I think it's unlikely that paywalls in and of themselves will provide the answers journalism needs."
Over at the NY Times the paywall issue is being revisited. From 2011 the most frequent visitors to its site will have to pay. The paper insists most readers won't be hit.
In the UK it's always been the Guardian which until now was most focused on the web. Its former editor Peter Preston says he'll be watching the new Times paywall with interest.
"It's only a few years since Rupert Murdoch spent £600m on new printing presses for the Times. Then he changed his mind," he pointed out.
"The thesis from the no-paywall people like the Guardian is that advertising revenue will continue to grow on the internet and will make a huge difference as newspapers migrate to the web in five or ten or fifteen years.
"Currently the Guardian gets 32 or 33 million unique visitors a month: put a paywall up and maybe that would go down to a fifth of that."
"The current model for newspaper revenue is pretty well busted. Newspapers need to find other ways of raising money. People sometimes say they're pro- or anti-paywall as though it was an either/or.
"But I don't think figures so far indicate they will be more than a contribution."