Coalition cabinet meeting in Yorkshire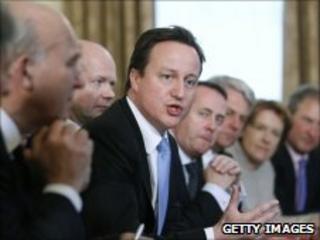 David Cameron's coalition cabinet has come together in Bradford for its first meeting outside London.
The prime minister is continuing the practice, revived by predecessor Gordon Brown for the first time since the 1920s, of hosting away-day meetings.
As under Labour, the day will include visits by ministers related to their areas of responsibility.
The main themes of the visit will be business and regional growth. The meeting was at the Grattan Stadium.
David Cameron pledged to bring his cabinet to Bradford after he was confronted by a resident of the city during his election campaign.
Emma Heal said the state of the city centre was "a disgrace" and she blamed Bradford's Conservative council for the stalled progress of the Broadway retail development, which was put on hold by developers during the recession.
Mr Cameron said it was "difficult sometimes to get these things done, particularly in a recession."
He said Conservative councils had a "pretty good record" across the country, providing the "cleanest streets" and "lowest council tax".
The first cabinet meeting away from London or Chequers since 1921 was held in Birmingham in October 2008.
A month later, Gordon Brown took the Labour cabinet to Leeds in West Yorkshire for a meeting which was dominated by the government's response to the Mumbai attacks.
The cost of holding cabinet meetings in the regions came under fire after West Yorkshire Police revealed the force spent £138,000 on security for the Leeds event.
Before Tuesday's visit to West Yorkshire, a Number 10 spokesman said: "Everything is going to be done to keep the cost to an absolute minimum."
Downing Street said the broad theme for Tuesday's meeting was boosting regional economic activity and helping businesses grow.
In a speech on Monday Mr Cameron warned that Britain had to learn to "earn its way in the world" again if it was to remain prosperous.
Speaking to a conference of chief executives, he said: "I think too many people in this country are living under the delusion that a prosperous past guarantees a prosperous future."