Miss Cornwall winner stripped of title after age lies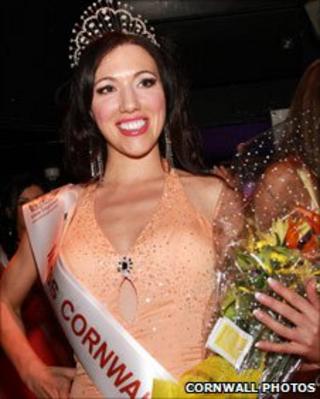 The winner of the Miss Cornwall 2010 competition has been stripped of her title after lying about her age and where she lived, organisers have said.
Teacher Laura Anness said she was 22 in her application when she was actually 27. The upper age limit is 24.
She also said she lived in Saltash, but she actually lived in Plymouth in neighbouring county Devon.
As well as losing the title, she has returned prize money of £2,000 and a 12-month modelling deal.
Entry forms
Miss Anness was due to represent the county in the Miss England final at the NEC Birmingham Hilton on 31 August and 1 September.
But organisers of the pageant removed her title after discovering she had said she was 22 in applications for the 2006, 2007, 2008 and 2010 competitions.
The rules state that entrants must be 17 to 24 and living, working or studying within the county.
Miss Cornwall organiser Becky Chapman, 38, said when she found Miss Anness's entry forms and confronted her with the evidence Miss Anness said she lied about her age to "follow her dream".
During a visit to Miss Anness's home, Ms Chapman then discovered she had also lied about her address and lived in Plymouth. She had no connection to Cornwall at all.
Organisers said the title and place in the Miss England final was going to the first runner up in the pageant, Samantha Jane Orpe.
Miss Anness has not been available for comment.