Dog was 'emaciated' and 'in its own dirt' court told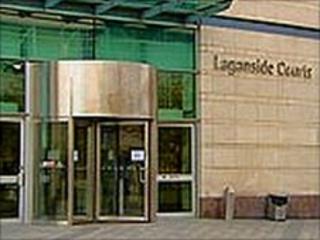 A severely emaciated dog was found at a house in Belfast nearly a year after its owner had moved out, a court has been told.
The German Shepherd was covered in its own faeces when it was found at a yard at Rushfield Avenue, Belfast Magistrates Court heard on Monday.
Sean Vize, 29, of Lavinia Square, was sentenced to 100 hours' community service for animal cruelty.
Vize said he returned to feed the dog but he did not exercise it.
Police found the dog in a covered yard which had no lighting or ventilation.
A prosecution lawyer said the dog was severely emaciated and appeared dehydrated.
Both the animal and the entire floor of the yard, measuring approximately 7ft by 4ft, was covered in faeces, a judge was told.
There was no bedding or access to food and water, it was claimed.
Police said the family had moved out in April 2009.
The dog was rescued by animal welfare officers and taken for veterinary treatment.