Former West Ham star Calum Davenport 'butted' sister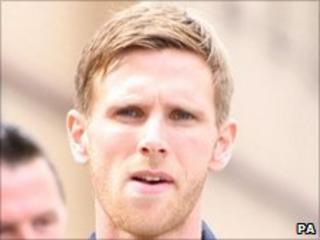 A Premiership footballer attacked his pregnant sister after turning up drunk at her Bedfordshire home in the middle of the night, a court has heard.
Former West Ham defender Calum Davenport, 27, of Moors View, Greenfield, called her a "whore" before headbutting her, Luton Crown Court was told.
Her boyfriend then tracked down Mr Davenport and stabbed him.
Mr Davenport denies causing actual bodily harm to his sister Cara, 29.
Prosecutor Beverley Cripps said Mr Davenport's sister Cara was asleep in the house along with her four-year-old son Calum Junior when Mr Davenport and his father woke her up at 0200 BST on 22 August last year.
Alarm raised
"He went there when he was drunk and his father was also drunk.
"They started putting questions to her. Unfortunately the questions were made in terms that were very abusive.
"Cara's son Calum Junior is mixed race and his father is unfortunately in jail.
"The father of the child she was carrying is also a mixed race gentleman."
The prosecutor said Mr Davenport called his sister a "whore" and made abusive comments.
In the porch, Mr Davenport is said to have pushed his sister in the face so she fell back onto the stairs. He started to headbutt her and in the struggle bit her cheek.
Stabbed leg
She managed to escape from her brother and contacted her boyfriend Worrell Whitehurst.
He tracked the player to Mr Davenport's mother's house and stabbed him repeatedly in the leg, nearly ending his career.
Whitehurst has pleaded guilty to a charge of inflicting grievous bodily harm with intent on Calum Davenport and causing actual bodily harm to his mother Kim Stupple, who had tried to get in between them.
The trial continues.