Harman warns Cameron over 'troops home' remarks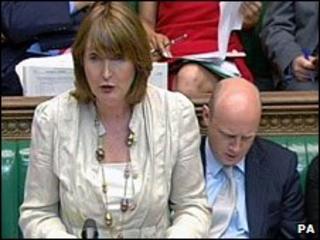 Harriet Harman has warned against "artificial" timetables for withdrawing troops from Afghanistan - after the PM said he wanted them home by 2015.
The acting Labour leader said it was a "very dangerous game to play".
Mr Cameron, updating MPs on the G20 summit, said he had made a "perfectly obvious statement" adding: "Of course we want to get the job done".
Defence committee chairman James Arbuthnot said Britain must get its "priorities right".
During the Commons debate on the G20 and G8 summits over the weekend, Mr Cameron said international forces were "not after a perfect Afghanistan - just a stable Afghanistan able to maintain its own security and prevent al Qaida from returning".
Troops' morale
He said the G8 had sent "a collective signal that we want the Afghan security forces to assume increasing responsibility for security within five years" and said large scale international forces could not be "an indefinite commitment".
But he was challenged about comments he made in an interview before the summits.
Asked whether he wanted the troops home by the next general election - set to be in May 2015 - he told Sky News: "I want that to happen, make no mistake about it. "We can't be there for another five years, having been there for nine years already."
Ms Harman said all parties "do not want our troops to stay in Afghanistan one day longer than necessary".
But she asked him to "clarify" his remarks asking whether he thought "that what he said assists our troops in their task in Afghanistan".
'Want job done'
"What effect does the defence secretary believe the prime minister's comments will have on the morale of our troops fighting day by day on the ground in Afghanistan?," Ms Harman said.
"Isn't it the case that, as the defence secretary has said, setting artificial time scales is a very dangerous game to play."
Mr Cameron said it had been a "perfectly obvious statement": "It was a Labour government that took us into Helmand province in 2005 - is she really saying that in 10 years' time after that we should still be in Helmand?
"Of course we want to get the job done train up the Afghan army and police and bring our troops back home."
He said progress would be seen against the basic level of security, stability and governance.
All parties paid tribute to the seven British servicemen who died in Afghanistan in the last week.
Several MPs - including former Lib Dem leader Sir Menzies Campbell - asked Mr Cameron to consider what the head of the Army, General David Richards, told the BBC on Sunday - that talks with the Taliban should begin "pretty soon" as part of an exit strategy.
Mr Cameron said there was already a process of "reconciliation and reintegration" under way with elements of the Taliban who were prepared to stop fighting.
But he said there was a "huge difference" between those insurgents with links to al-Qaeda with "extremist" ideology - and insurgents who had joined because of "the way particular tribes have been dealt with or particular local issues".
Mr Arbuthnot, a senior Conservative MP, said: "We have to get our priorities right between leaving and succeeding.
"If our priority is to leave, it will make it harder to succeed, whereas if our priority is to succeed it will make it easier to leave."
Mr Cameron said he agreed and provinces should be handed over to Afghan control based on the "facts on the ground" rather than a timetable.
But he added: "I don't see anything wrong with actually saying this is a task that has to take place over the coming years but we should not be there for instance for five years. I think that is a perfectly fair point to make.
"The last government set quite a lot of interim, very short term targets, and I think that is actually where the problems come."