Gloria Arroyo: Going, but not gone?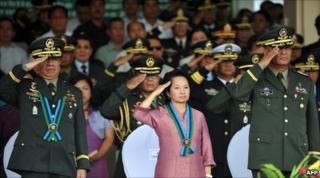 When Gloria Macapagal Arroyo steps down on Wednesday, she will have served more than nine years as Philippine president.
After all that time at the helm, it might be natural to assume she would go the way of most former leaders the world over - after-dinner speeches, a book of memoirs, time spent with the family.
But for the first time in Philippine history, the outgoing president is going to accept what is effectively a demotion and become a member of Congress.
In the months before the election, the rumour mill was rife: Why was she doing this? Did she somehow think it would enable her to cling on to power past the single full term allowed under the constitution?
Her critics said running for Congress was only the beginning of her plan.
A position there would make her a prime candidate for House Speaker, and from there she could reform the country's political system from a presidential to a parliamentary model.
That would create the new position of prime minister, a post which - so the logic went - would effectively be hers for the taking.
"I think that's originally what she wanted to do - that was her maximum target," said Ramon Casiple, executive director of the Institute of Political and Electoral Reform. "Her party has been trying to change the system for years."
Rise and fall
But according to Mr Casiple, everything changed when the popular former President, Cory Aquino, died last year.
There was a sudden clamour for Cory's son, Benigno - more commonly known as Noynoy - to run for the presidency, and since his resounding victory in May's elections, there has been no more talk of reform, Mr Casiple said.
Mr Aquino's popularity has also eroded a lot of the congressional support that Mrs Arroyo must have been hoping for - her erstwhile colleagues have been abandoning her as fast as they would a sinking ship.
Her Laskas-KAMPI-CMD coalition won 108 Congress seats, while Mr Aquino's Liberal Party only won 45, so theoretically the lower house should be packed with Mrs Arroyo's allies.
But political parties in the Philippines are almost inconsequential compared to individual personalities, and more than 70 members of Mrs Arroyo's alliance have already defected to Mr Aquino's camp since the election.
"Most politicians want to be seen to back the winner, because the winner controls the budget," said Professor Benito Lim, a political science professor at Manila's Ateneo University.
So if Mrs Arroyo is not able to claw back power, why is she still determined to stay on? A magnanimous answer would be that she wants to see her policies through to fruition; a less kind, and far more frequent reason being given in the media, is that she wants as much protection as she can get from possible prosecution.
A key pledge of Mr Aquino's election campaign was to fight corruption, and that includes investigating the financial dealings of members of the outgoing administration.
Mrs Arroyo has always vehemently denied claims of abusing her position in power, but when I asked Mr Aquino a few weeks ago if his predecessor should be worried, he had a simple answer: "Yes."
What went wrong?
If the opinion polls are to be believed, Mrs Arroyo is leaving office as one of the most unpopular presidents in Philippine history, with a recent approval rating of just 14%.
It was a very different story in 2001, when she first took power after Joseph Estrada was ousted in the country's second "People Power" revolution.
She was hailed as everything Mr Estrada - a former movie star with a reputation for hard-drinking and infidelity - was not.
A quietly-spoken, US-trained economist and daughter of former President Diosdado Macapagal, she promised to "build an edifice of peace, progress and economic stability".
But over the years, she became dogged by fraud allegations - especially those surrounding her controversial election win in 2004 - as well as claims of human rights violations in her attempt to quash various different rebel groups.
She has also been criticised for failing to stem the widespread poverty in many parts of the country, where a third of the population still live on less than $1 (£0.66) a day.
"She did a few things, but did she do enough?" asked Prof Lim. "She built 100,000 houses, but three million people still have no home."
Forgive and forget
One of the few voices speaking out in Mrs Arroyo's defence is her former economics teacher at the University of the Philippines, Professor Gonzalo Jurado.
"In terms of getting projects done, she was very good. She's built lots of impressive highways, shops, roads, airports, delivery systems - she was brilliant at that," he said.
"Some of the problems she had been trying to alleviate, such as poverty, were problems she inherited."
Prof Jurado believes that history will view Mrs Arroyo far more kindly than she is being seen at the moment.
"There's no question about it - in just a few years' time, people will say she's been misjudged."
He could be right. Mrs Arroyo's predecessor, Mr Estrada - who was hounded out of office by huge street protests - came second to Mr Aquino in the recent presidential elections. More than nine million people voted for him.
And Imelda Marcos - the wife of former President Ferdinand Marcos - has just been voted into a seat in Congress, despite the fact that the Marcoses, too, were ousted in a People Power revolt.
Right now, the vultures are circling around Mrs Arroyo. But when it comes to Philippine politics, voters have already proved they can forgive and forget - and it would be premature to write off Mrs Arroyo just yet.