Aberdare fireman hit by pellet shot into fire engine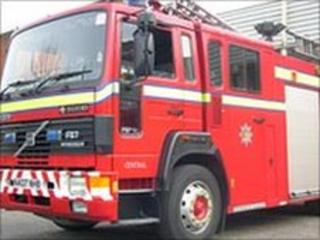 A firefighter attending a forest blaze has been struck by a pellet shot through the open window of a fire engine, says a fire service.
Although the man was not seriously injured in the incident at Abercwmboi, Cynon Valley, on Sunday, the shot missed his eye by less than an inch.
Police are appealing for witnesses to what is the 24th attack on firefighters in south Wales since January.
South Wales Fire and Rescue described the incident as "very serious indeed".
The attack happened at 1245 BST as a crew of firefighters was returning to base after fighting a fire in forestry in the Aberdare area of the county.
Police believe the pellet was fired from a lane near Park View Terrace in Abercwmboi.
A spokesman for South Fire and Rescue Service said already this year its crews and appliances had been the target of stoning.
But he added that this incident had taken police and fire and rescue services' concern to a new level.
Chief Fire Officer Andy Marles said it was "not acceptable" that fire crews had to put up with such behaviour.
"Our firefighters are there to carry out their job protecting the community," he said. "We are here to help people and we will not tolerate attacks on firefighters.
"We will treat all incidents, whether verbal or physical, very seriously and any evidence of abuse to any firefighter will be pursued in law through the courts."
Jason Evans, Aberdare station commander, explained that the fire crew had just attended a "deliberately-set" forestry fire when the crewman, sitting in the rear crew cab behind the driver, was struck.
He said: "The firefighters were tired and extremely hot, having been fighting the forestry fire for a number of hours, therefore the fire appliances windows were down when the pellet was fired.
"It's very sad that some individuals do not respect and appreciate the good work their local firefighters are doing within their area."
Attacks
South Wales Fire and Rescue Service said it was working closely with police and safety partnerships to try and find the culprit and to put a stop to such attacks.
CCTV has been fitted on appliances around south Wales to help combat the threat of abuse to firefighters.
The cameras give full coverage of the area when firefighters are attending incidents and if there is any abuse to firefighters, the tapes will automatically be passed to the police, said the service.
South Wales Police said house-to-house inquiries were being made in the area.
"This was an extremely dangerous and irresponsible action which could have injured the firefighter or caused a serious road traffic collision," said a spokesman.
Police are appealing for anyone with information about this incident to contact Aberdare Police Station by calling 101 or Crimestoppers, anonymously, on 0800 555 111.