People 'to pay' for flood defence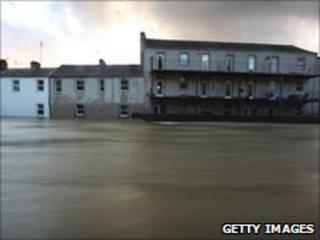 People will have to pay more towards flood defences in their area in future, the Environment Agency has warned.
The government agency responsible for river and coastal flooding said flood management spending had hit a new high.
But despite taxpayer funding of £629m this year, it said business, landowners and communities would have to pay more.
It said they needed protection from the increased risk of flooding and coastal erosion in the future, brought on by climate change.
'Those who benefit'
At a flood and coastal risk management conference in Telford on Tuesday, Environment Agency chief executive Dr Paul Leinster is expected to highlight communities which have already contributed more to flood defences.
He will say that in Hereford, Asda contributed £2m under planning conditions for a supermarket and constructed 440 metres of flood defences.
It was part of a £7.5m scheme to protect 196 properties, including 25 listed buildings.
In Bawdsey, Suffolk, local landowners and residents formed a trust to raise £2.2m for a coastal protection and flood defence scheme, raising money by selling plots of land in nearby villages.
Dr Leinster said: "The Environment Agency has been given £629m million by Defra (Department for Environment Food and Rural Affairs) to reduce flood and coastal risk this year, £21m more than last year.
"We are on track to reduce flood risk to 160,000 properties in England between April 2008 and March 2011 - exceeding our government target for the period by 15,000.
"Whilst continued government investment in managing the risk of flooding is important, we must now also look at alternative funding streams, including increased contributions from those who will benefit from future defence schemes."