US Supreme Court nominee Kagan faces Senate hearing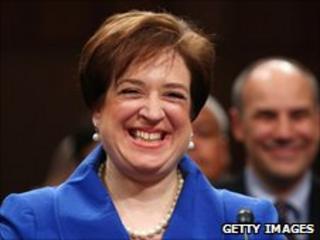 US President Barack Obama's Supreme Court nominee, Elena Kagan, has spoken at her confirmation hearing in front of the Senate Judiciary Committee.
Ms Kagan pledged "to consider every case impartially modestly, with commitment to principle and in accordance with law" in her speech in front of the panel.
She emphasised that she would judge with "even-handedness".
Ms Kagan is expected to be approved by the Democrat-dominated committee.
Her confirmation is unlikely to be entirely smooth though - Republican senators have expressed concerns about her views on the military and her lack of judicial experience.
The 50-year-old solicitor-general will face tough questions over banning military recruiters from using Harvard Law School facilities while she was the school's dean.
The ban, which was later revoked, stemmed from her opposition to the military's prohibition on openly gay service members.
If confirmed, Ms Kagan would be the youngest member of the current court and the first justice in 39 years not to have been a judge.
Ms Kagan was nominated to replace retiring Justice John Paul Stevens, 90, who is considered one of the court's leading liberals.
The selection of a Supreme Court justice gives a president the opportunity to influence US public life for decades, as the justices are not bound by term limits.
The first day of the judiciary committee on Monday hearing was dominated by statements from its 19 senators.
"Your relatively thin record clearly shows that you've been a political lawyer," Republican Senator Charles Grassley told Ms Kagan.
He added: "A judge needs to be an independent arbiter, not an advocate or rubber-stamp for a political agenda."
"There is no basis to question her [Ms Kagan's] integrity," said Democratic Senator Patrick Leahy, the panel's chairman. He then called her legal qualifications "unassailable".
Ms Kagan herself spoke after sitting through nearly two hours of opening statements.
"If confirmed, I will work hard and and I will do my best to consider every case impartially, modestly, with commitment to principle, and in accordance with law," said Ms Kagan.
She added that the court "must also recognize the limits on itself and respect the choices made by the American people".
Ms Kagan paid a visit to the White House prior to the hearing, where President Obama gave her his best wishes.
She is expected to begin answering questions only on Tuesday.
Sen Leahy said he was confident Ms Kagan would be approved by the panel, and then confirmed by whole Senate before the August recess.
'Confirmation, not a coronation'
But the top Republican on the committee, Senator Jeff Sessions, said she was seen as a "dangerous nominee" given her relative youth, limited legal record and political affiliation, and stressed that her approval was far from guaranteed.
"This is a confirmation, not a coronation," he told CBS. "She has the least experience of any nominee at least in the last 50 years."
Speaking in Toronto on Sunday, Mr Obama dismissed the reservations expressed by some senators as "pretty thin gruel".
"Having said that, I expect that my Republican colleagues and my Democratic colleagues should ask her tough questions, listen to her testimony, go through the record, go through all the documents that have been provided to the Senate Judiciary Committee, and then vote their conscience," he added.
Correspondents say Ms Kagan is regarded as a liberal on most issues.
But she has worked with conservatives and even attracted a liberal backlash against her support for continuing Bush administration policies on state secrets and the use of military commissions to try terrorism suspects, they add.
Her staunch advocacy of gay rights may concern Republicans.
She went through a fairly smooth confirmation process in the Senate for the post of solicitor-general this year, when seven Republicans voted for her.
Senate Democrats should have enough votes to confirm her, but they would not be able to halt blocking or stalling tactics by any Republican senators.
Early in her career Ms Kagan was a clerk for a US Court of Appeals judge and later for former Justice Thurgood Marshall. And like Mr Obama, she worked on the Harvard Law Review as a student.
She later taught at and became the first woman dean at Harvard Law School and served in the White House under President Bill Clinton.
If confirmed, Ms Kagan would become the fourth woman justice on the Supreme Court, following Sonia Sotomayor, Ruth Bader Ginsburg and Sandra Day O'Connor, now retired. She would also be the third Jewish justice on the current court, along with six Catholics.