Online vote on West Wales General Hospital name change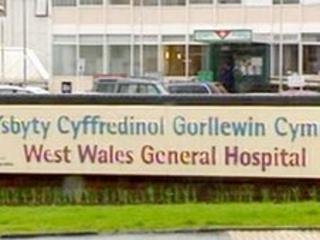 An online vote is under way to find out if a hospital's name should change.
West Wales General Hospital is known to many as Glangwili due to the area in Carmarthen where it is sited.
Now the Hywel Dda Health Board is running a website poll and consulting the public on whether they would like to see the name officially altered.
Concerns have been raised about the cost of the switch but NHS managers said they "guaranteed" they would be "absolutely minimal".
The hospital has been officially called West Wales General since 1949 when it was the first district general hospital to open in Wales under the NHS Act.
But it is widely referred to in the area as Glangwili.
Also since it opened three other general hospitals have been built serving west Wales - in Llanelli, Haverfordwest and Aberystwyth.
Trevor Purt, who became chief executive of the health board which runs all four last October, said: "When I first arrived in west Wales and was asked about future developments at Glangwili Hospital I was confused as to where people were referring to.
"Of course, I quickly became aware of the local use of the name but I have been left pondering whether we should change the name in order to reflect local people's wishes."
An online poll is running on the health board's website until 9 July.
Hospital staff will also be speaking to patients and visitors to gauge their opinion.
The board said a small number of individuals had raised concerns about the cost of a name change.
Corporate services director Chris Wright said no decision had been taken so no specific costs were available.
"However, we offer our guarantee that costs would be kept to an absolute minimum," he added.
"Letterheads are currently produced electronically and any other stationery would only be changed as stocks were replenished.
"Signage will be replaced as part of a rolling programme."
Ashley Warlow, chief officer to the Hywel Dda Community Health Council, said while members had yet to officially discuss the change he believed most would be supportive.
He said the "vast majority" of people knew the hospital as Glangwili but the CHC would seek assurances there would be minimal costs involved and it would not detract from any services.