Economic recovery in Scotland 'back on track'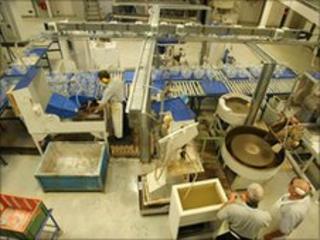 Scotland is on the road to economic recovery despite a blip caused by the poor winter weather, according to a new report.
Lloyds TSB Scotland's business monitor found an improvement in companies' turnover in five of the past six quarters.
The manufacturing and service sectors showed significant improvements, the survey reported.
But expectations of increasing turnover in the next six months remained low.
According to the monitor, 33% of firms reported an increase in turnover for the three months to the end of May 2010, while 40% reported a decrease.
Although that gave a net balance of -7%, it marked a significant improvement on the previous quarter's figure of -22%.
Lloyds TSB Scotland said it was the strongest result recorded in the past two years of the business monitor.
After four consecutive quarters of improvement, the survey showed a deterioration in the spring of this year as a direct result of the severe winter weather of early 2010.
However, the manufacturing sector showed "a significant improvement" in the latest results, with turnover down 2% compared with a fall of 31% in the previous quarter.
Service businesses also improved with a net fall in turnover of 10% compared with a drop of 17% in the previous quarter.
The three months to May saw the biggest increase in exports for three years.
Cost pressures
The survey also found cost pressures had re-emerged with a vengeance, with a substantial increase in the number of firms experiencing cost increases.
Professor Donald MacRae, chief economist of Lloyds Banking Group Scotland, predicted the Scottish economy could grow by as much as 1% this year.
"After five quarters of declining output with the most severe decline in quarter one of 2009, the Scottish economy returned to growth at the end of last year with output growth of 0.2%," he said.
"The recovery stalled in mid-winter but has now resumed. However, confidence remains low with the service sector feeling the effects of low consumer confidence."