Vetting urged for foreign medics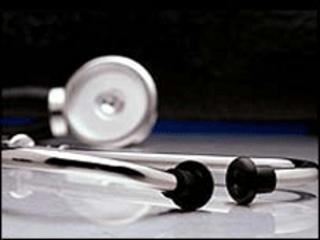 Poorly trained doctors who cannot speak good English must not be allowed to work in the health service, doctors' leaders say.
BMA leader Dr Hamish Meldrum said tighter restrictions were needed for European doctors to ensure patients were properly protected.
EU rules have led to confusion over what standards the NHS can demand.
The debate follows the death of a man given an overdose of painkillers by a German doctor on his first NHS shift.
Speaking at the annual doctors' conference, which is being held in Brighton, Dr Meldrum said: "It cannot be acceptable for poorly trained, badly regulated doctors whose knowledge of English is about as good as my knowledge of Chinese to be able to practice virtually unchallenged in the UK."
He said the problem had been caused by badly-run out-of-hours GP services.
Some NHS trusts, which have responsibility for arranging night and weekend care after family doctors opted out of providing the care, have turned to foreign doctors to fill shifts.
This happened in the case of Cambridgeshire patient David Gray.
He died two years ago after being given 10 times the normal dose of diamorphine by Dr Daniel Ubani.
Dr Ubani is a cosmetic surgeon who had been brought in to work weekend shifts after a private firm was given a contract by the local NHS trust to run out-of-hours care.
Dr Ubani's poor English meant he had been refused work by the NHS in Leeds, but he was later accepted in Cornwall, which then led to work in Cambridgeshire.
This situation arose because of different interpretations of the rules. The General Medical Council (GMC), which regulates doctors, says it is unable to carry out clinical or language checks on doctors from EU countries as it does for those from elsewhere in the world.
That means it has been left to NHS trusts as employers to carry out their own tests, but this has not been done in a consistent manner.
Health Secretary Andrew Lansley said he was looking to tighten up the system.
"We are working closely with the GMC to ensure that foreign healthcare professionals are not allowed to work in the NHS unless they have proven their competence and language skills.
"We are currently exploring a number of options to put a stop to foreign doctors slipping through the net."
One of the avenues being looked at is how other countries test foreign doctors. There have been suggestions some interpret the rules differently and carry out tests routinely.