Bus pass and folding bike help councillors cut costs
By Steven McKenzie
BBC Scotland Highlands and Islands reporter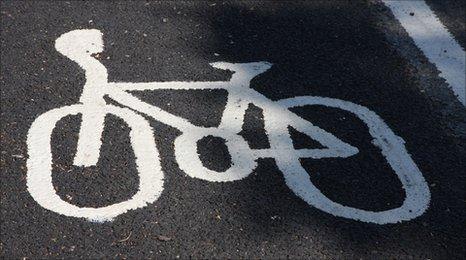 Applying for a bus pass and buying a folding bike are among methods some of Highland's 80 councillors are using to reduce their travel costs.
In February, members were urged by council leaders to help the authority save £50,000 on their expenses.
Almost six months on, the BBC Scotland news website asked councillors what they had done regards travel.
Most who replied had used alternatives to their own cars, but those in remote wards had found it hard to do.
In 2009-10, Highland Council paid out £230,640 in members' travel expenses.
The previous financial year, the figure was higher at £285,157.
The BBC Scotland news website sought to contact all 80 members. Details for 14 councillors were received.
Most of those who had tried to find alternatives to travelling on business by car had either car-shared, or cycled.
Hamish Wood, a councillor for Aird and Loch Ness, is a keen cyclist and was recently appointed chairman of the Highland Cycling Campaign Group.
In the past four years he has cycled from Boston to Chicago in the US, the length of South Island, New Zealand, and Adelaide to Brisbane in Australia.
Mr Wood has just purchased a folding bike. After parking his car, he plans to unfold the bike and pedal to meetings around his ward.
Ian Ross, East Sutherland and Edderton, has been cycling to meetings over the past few years.
He covers 13 miles on rides from his home to Rogart Community Council and has also pedalled to meetings held around Inverness.
Wester Ross, Strathpeffer and Lochalsh councillors Audrey Sinclair and Isabelle Campbell usually car-share to meetings and site visits in their wards.
Ms Sinclair added: "I also cycled the five miles from home to attend Plockton Community Council meeting last month - which caused a few comments of surprise and admiration on the night."
David Henderson, Inverness Ness-side, is another keen cyclist and finds it a quicker way to get to meetings in the city than taking his car.
He said: "I should stress that I also use my bike for most other travel around the town."
Car-sharing is something most of the respondents said they tried to do.
They included the council's budget leader Dr David Alston, Black Isle, and Thurso councillors John Rosie and Donnie Mackay.
Only Roddy Balfour, Culloden and Ardersier, said he had used public transport.
He said: "I have used public transport to attend council meetings some five or six times since February.
"This has hardly been cost effective to the council as a return bus ticket costs little less than the mileage remuneration I would have received from the council - but in my case I mislaid the used tickets so was unable to claim.
"I am fortunate in that I live not far from a bus route but it would be unfair to expect those not near bus routes to rely on public transport and it would not make a lot of sense to expect those of us in rural communities to use public transport travel around our wards."
Mr Balfour added: "Although I am eligible for a bus pass I have never bothered to apply for one. I do, however, intend to do so in the near future and to use it for travelling to and from council meetings."
For councillors in more rural and remote parts of the Highlands, public transport is less frequent, or not available at all.
Robbie Rowantree, North, West and Central Sutherland, said his area was less densely populated than Siberia and he had no other choice than to travel by car.
Drew Hendry, Aird and Loch Ness, said he strived to be efficient and was supportive of better public transport links, but added he also has to rely on his car or a lift in another vehicle.
Gregor Rimell, Badenoch and Strathspey, walks to events in Newtonmore where he lives and plans his diary in an effort to reduce car journeys as far as possible.
Drew Millar, Eilean a Cheo (Skye), has car-shared but added that it had been impractical for other meetings on and outside the island.
Wick councillor Bill Fernie said Caithness members live more than 100 miles from Inverness, where the council's headquarters are and meetings of the full council are held.
He said he tried where he could to car-share and stayed in a bed and breakfast when that was the most cost effective option.
Mr Fernie said: "The train and buses are impractical due to time constraints.
"A four-hour train journey at the beginning and end of the day would not be viable leaving home at 6.00am and getting back after 9.00pm.
"Buses are an hour less in each direction but still would make for a very long day.
"We would share if possible, but rarely would we be going to the same meetings on the same day and returning at the same time."
Related Internet Links
The BBC is not responsible for the content of external sites.