DUP MP David Simpson to stand down from assembly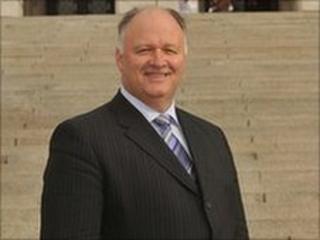 The DUP's David Simpson has notified the Northern Ireland Assembly that he intends to stand down as an assembly member.
Mr Simpson intends to stand down from the role in July.
The move is in line with the DUP's policy of phasing out dual mandates for politicians.
In May's general election, Mr Simpson was re-elected to the Upper Bann seat that he won from Ulster Unionist leader David Trimble in 2005.
Under assembly rules if a member steps down, their party is able to nominate a new person to take their seat.