Happy ending as baby elephant joins Howletts herd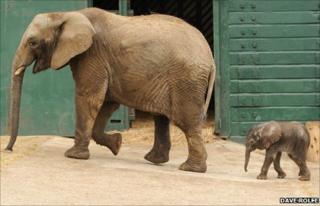 An elephant calf that keepers feared would not survive has been introduced to her herd for the first time.
The calf, who has not yet been named, was born six weeks ago to her mother Justa at Howletts Wild Animal Park, near Canterbury, Kent.
Keepers said Justa was aggressive towards her baby and keepers had to feed her a special milk formula.
But later, Justa began to tolerate her calf and went on to show maternal behaviour.
'Brave decision'
A spokeswoman for Howletts said the baby calf was born at night.
When keepers found the new arrival in the morning, the baby had been rejected and was not being fed and its mother was on the opposite side of the enclosure.
She said keepers made a "brave decision" to keep the calf in with its mother because elephant calves that are solely raised by humans have very low chances of survival.
Luckily, Justa had a docile temperament and keepers hand reared the calf and kept it alive without separating mother and daughter.
Keepers fed the calf by following a rota that included 15-hour night shifts.
The calf began to strengthen but had still not received her mother's milk which contains antibodies to help fight infection.
Crucially, Justa began to respond to her baby and feed her two weeks later.
Eventually, the newborn was cared for entirely by her mother and the pair formed a bond which continued to strengthen.
The final hurdle came when the baby had to be accepted and integrated into her mother's herd.
Keepers introduced her slowly to her family and she was eventually accepted as one of their own.