Acorns Children's Hospice hit by collection scam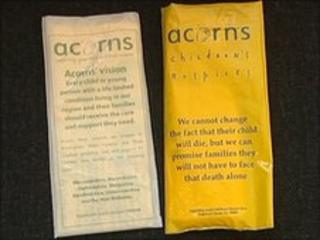 A West Midlands-based children's charity has lost thousands of pounds in income due to a collection scam.
Fake Acorns Children's Hospice Trust collection bags have been distributed to households across the region, with a private firm collecting the donations.
Janice McPherson, manager of an Acorns hospice shop in Dudley, said: "Stock levels are critical and by Wednesday we will have no clothes left to sell."
The legitimate Acorns collection bags are white, the fake ones are yellow.
'Big shock'
"Donors are filling the bags thinking they are helping children in their local areas but it's actually going to private enterprise and someone else is making a lot of money out of this," Ms McPherson added.
Selling second-hand clothing raised about £1m last year for the charity, which has three hospices in Dudley, West Midlands, Selly Oak, Birmingham, and Worcester, Worcestershire. This is enough to run a 10-bed hospice for nine months.
Any unsuitable clothing is sold to professional clothes recyclers such as Colin Hobson who sells the material in Eastern Europe and Africa.
Mr Hobson said: "We are very surprised by the quality of the scam, it came as a big shock."
Birmingham City Council's Trading Standards has urged anyone who is given a yellow Acorns collection bag to report the forgery immediately.