Girl's death 'not predictable' by care professionals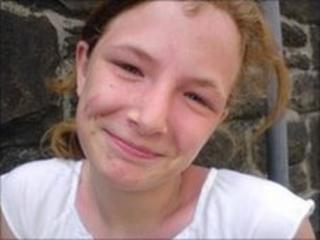 The death of a girl who was being monitored by social and care agencies could not have been predicted by those working with her, a report says.
Cherrell Ardle, 13, was found hanging at her home in Rhondda, south Wales, in December 2007. An open verdict on her death was recorded.
Rhondda Cynon Taf's Local Safeguarding Children Board has published the findings of a serious case review.
A series of eight recommendations are made to promote better practice.
The report said Cherrell, only named as Child H by the authors, was receiving services as a "child in need" at the time of her death.
The review was critical of aspects of decision-making and action by some of the agencies involved, but concluded: "None of the professionals working with Child H could have predicted her untimely and tragic death."
The review had to be postponed for a period at the request of the police and Crown Prosecution Service while a criminal trial was carried out.
Paul Nicholls, a 39-year-old volunteer with the Air Cadet Organisation, was charged with sexual activity with a 15-year-old girl, and during his trial allegations were made that he had had a sexual relationship with Cherrell, and that this had been a contributory factor in her death.
She had been a member of the Air Cadets in the months leading up to her death, and it was established that she had had contact with the instructor, although there was no evidence found of a sexual relationship, which he had denied.
Nicholls, of Rhondda, was subsequently sentenced to five years in prison.
The review established that information about contact between Cherrell and the instructor had not been clear prior to her death.
It later emerged some individuals were aware she was being contacted by an adult male but were not concerned at the time.
'Very significant'
The report said: "It is highly likely that if all of the information revealed after Child H's death had been available to key professionals this would have led to further enquiries and joint agency consultation under the Local Safeguarding Children Board (LSCB) procedures."
The review noted Cherrell had been bullied at school but said prompt action had been taken by teaching staff.
She had harmed herself from when she was in primary school according to her mother, but the extent of it was an area of some disagreement between the mother and various professionals.
The review also found several examples of good practice and some "very dedicated work" with Cherrell, but said information could and should have been shared more effectively.
It made eight recommendations to the LSCB, including evaluation processes using specialist assessors, a review of foster carer training, and clear guidelines for keeping children safe from digital media.
Rhondda Cynon Taf LSBC called Cherrell's death a tragic incident, but said the conclusion that her death could not have been predicted was "very significant" to the people who knew and worked with her.
It added: "However, we also recognise that the report identifies a number of learning points to promote better practice.
"Perhaps most importantly for all partners is the recognition that this was a young person with complex needs and that the challenge to all agencies in Rhondda Cynon Taf is to develop greater sophistication in our approach to supporting such troubled young people more effectively."
The RAF and the Air Cadet Organisation (ACO) said they were "deeply distressed" by the teenager's death and their thoughts were with her family.
An RAF spokesperson said: "The RAF and the ACO have worked with the civilian police and the serious case review team to help establish the facts of this case.
"All civilian instructors, including the civilian in this case, passed Criminal Records Bureau Enhanced checks."