Reward after child train 'arson' attack in Llangollen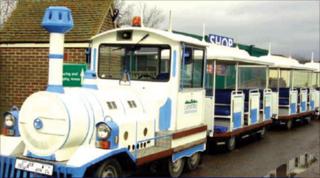 A reward has been offered for information to help catch suspected arsonists who set light to a £100,000 children's ride.
Stephanie Booth, owner of the Wild Pheasant Hotel in Llangollen, Denbighshire, said the train was doused in petrol outside the hotel.
She claimed broken glass was placed under the door handles.
Ms Booth, who has offered a £500 reward, said the attackers had deliberately intended to cause harm.
Police are investigating the attack which happened at about 2350 BST on Friday.
Staff managed to douse the flames, but "extensive damage" was caused to the vehicle.
The train, which was imported from France, was used for children's rides and for charity events.
It is being repaired at a secret location.
Stephanie Booth said: "It's a very good job one of our staff spotted the flames so quickly otherwise we'd be looking at damage to the hotel as well as the land train.
"It really does beggar belief what some people will do and to also set up the attack with the mind to harm people approaching it is extremely serious."
The reward is offered for information leading to the arrest and prosecution of anyone involved.