Dumfries and Galloway biker warning after road crashes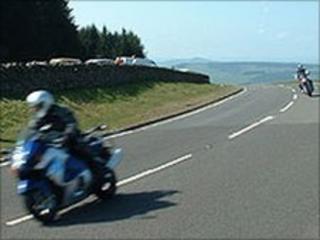 Police have urged bikers to "take responsibility" for their own safety after three serious crashes in the space of a week.
Dumfries and Galloway Constabulary said a spell of good weather had seen more motorbikes on the region's roads.
Police said bikers must remember to treat routes with "respect and care".
Pc Jim Cowie said it was not all "doom and gloom" but simply a reminder of the "skill, effort, care and concentration" needed to ride a motorbike.
He said police were "dismayed" by situations which resulted in "horrendous injuries".
"I would encourage riders to be mindful that while the warmer weather has definitely made riding more enjoyable that they must not get carried away and that the roads demand respect and care," he said.
"The injuries we are seeing are typical for motorcyclists and potentially life-changing.
"I am a biker off-duty myself but having been to more motorcycle crashes than I care to remember I am very aware of what even a minor mistake on the rider's part can lead to."
He said it was no good "going out for a run on a bike and coming back in an ambulance".
"It is fair to remind riders that while biking is a great recreation it is dangerous and requires great skill, effort, care and concentration," he said.
"Riders must take responsibility not just for their own safety but for the safety of other road users.
"Twisty roads are more challenging and what bikers look for but cornering at speed can put riders in danger and bring them into conflict with other traffic."