Should you be paid for work experience?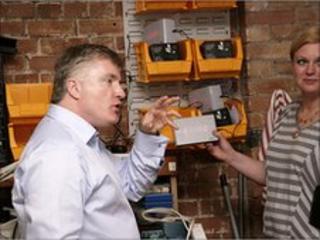 On a website about internships, one Masters graduate from Durham claims that her work experience included collecting her boss's dry cleaning and booking his holiday.
You would not expect Business and Enterprise Minister Mark Prisk to be doing anything similar during his week of work experience with small businesses - although he is expecting to make the tea.
Mr Prisk claims that it is "important to get out of the ivory tower at Westminster" and "gets his hands dirty" during days at five different firms.
His first day was at DIY Kyoto, a London-based business that makes wireless electricity meters.
Calls to the firm revealed that he had been in meetings during his first morning and was having his photo taken later.
This is a working day far removed from the experience of many youngsters who spend their placements kicking their heels or daydreaming at the photocopier.
There are fears that employers could take advantage. The TUC has accused some employers of ignorance, and other of "ripping people off".
So should interns be paid for their efforts?
'Hurdles'
One survey published this week has found that 80% of young adults believe they face barriers to getting into their chosen career.
Although 81% of the 1,003 people surveyed had been on an occupational placement, 44% said this was not relevant to their future career.
David Morley, senior partner at legal firm Allen and Overy, which conducted the survey, says that work experience is "crucial" and helps in young people's job aspirations.
The search for the dream job means that some are exploited during work experience, according to campaigners.
While a week's placement after sitting GCSEs may not merit a wage, they say that many interns do deserve to be paid for the work they do.
Interns can work for months after graduating, in order to gain the skills that would attract employers and to make contacts.
Extended work experience has been common in the arts and media industries and is becoming more popular in IT and engineering.
Guidance
The Chartered Institute of Personnel and Development (CIPD) has issued guidance to employers having been concerned that they are breaking laws by failing to pay interns.
It says that the rules on the national minimum wage are not clear enough with regards to interns.
Someone should be paid if they are doing genuine and productive work, but not if they are classified as a volunteer - when they are able to choose their hours and be absent when they wish.
Now the CIPD has called for a compromise - by setting a training wage at £2.50 an hour. This would be paid to interns to bring them in line with the minimum wage for apprentices.
It says that a third of interns are unpaid, but some of the best employers pay well over this rate.
"We believe that the introduction of this training wage would reflect the contribution that interns make to their organisations, which is likely to be less than that of a fully-trained member of staff," he says.
"At the same time it avoids concerns over reductions in the number of internship opportunities that may result from all interns being paid the full minimum wage."
He adds that the move would encourage those from poorer backgrounds to apply for internships. The rate could be varied depending on living and transport costs in the area of work.
Consideration should also be paid to the idea of sick pay for interns, who currently have no right to it, he says.
When asked about the proposal, Mr Prisk said that it could add an extra layer of bureaucracy for small business if this became statutory legislation. One wonders whether his views will change if he is stretched to the limit during his work experience this week.
We asked you if you think interns should be paid. Here is a selection of your comments.