Arts groups in Wales await funding announcement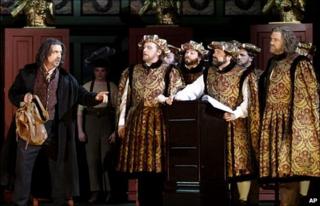 Arts organisations across Wales are awaiting an announcement over their future funding prospects.
The Arts Council of Wales (ACW) is due to reveal the conclusions of a wide-ranging spending review.
Its verdict could spell serious problems for some smaller organisations who would struggle to stay afloat without funding.
It comes after former culture minister Rhodri Glyn Thomas called for more cash for the arts and creative industries.
Mr Thomas, who was the culture minister from 2007-8, told the Politics Show Wales: "I would argue strongly that at the moment Wales needs to invest in the arts and in creative industries."
On Tuesday ACW will make an announcement on what it has deemed a "bold and decisive" funding review.
The funding body gave £24m to 97 different arts groups last year, ranging from small community projects to large organisations like Welsh National Opera (WNO), which received £4.5m.
A spokeswoman said ACW had received business plans from 116 organisations asking for an extra £10m, at a time of a public sector budget squeeze.
Professor Dai Smith, chairman of the Arts Council of Wales, told Radio Wales that his organisation's strategic review was "not engaged in cuts".
He said: "This is a strategic review. We will be using our judgement to decide which priorities we will take forward.
"We've been clear from the outset that what we're doing is looking for quality and excellence in arts provision, in arts delivery.
"It's quite clear, we've been stretched too thin in terms of the amount of money given to the arts over the last few years.
"We believe that the arts are at the core of what we call creative Wales.
"The arts are not an add-on, they are not a loss leader, they are not the cherry on the cake. They are actually the essence of what it means to be Welsh."
Prof Smith criticised the media's "false populism" of comparing Welsh National Opera's arts funding to small arts companies.
He said: "I think it's a big and unfortunate mistake that the media is fixated on the scale of money that WNO gets.
"Opera costs a lot of money but Welsh National Opera gets more money from Arts Council England [and] is very good at raising sponsorship - it simply does not figure in the equations. It's false populism."
Mr Thomas urged restraint by the assembly government when it sets ACW's budget in December.
He said: "I think the assembly government can look at what Roosevelt did to try and get the US out of the depression and look at what arts can do to rejuvenate the economy."
He defended WNO's slice of the funding, saying: "You have to have flagships."
'Disastrous'
Martin Barlow, director at the Oriel Mostyn art gallery in Llandudno, said any reduction in ACW funding would be "disastrous" for the venue.
He said: "We reopened a month ago, having doubled in size, taken on new staff and trebled the number of exhibitions.
"At the moment ACW funding accounts for about 50% of our total turnover so any cuts would impact very negatively."
Organisations like Earthfall, a physical theatre and dance company based in Cardiff, and Spectacle Theatre in Tonypandy, Rhondda Cynon Taf, are also waiting anxiously.
Jessica Cohen, Earthfall's artistic director and founder, said: "I have been nervous and I have half my heart thinking maybe next month we will have our funding cut."
Spectacle receives £250,000 in ACW funding and losing that could mean it has to merge or shut down.
Sandra Jones, the administrative director, said the company would have to look at reducing the number of productions it stages to save money, which would have a knock-on effect on the number of people it employs.
ACW chief executive Nick Capaldi has said it will support the best and those who engage with communities, while balancing geography and the size of organisation.
Arts commentator Jon Gower said the arts council recognised that "some companies are hanging on by their fingertips" but was looking to create its "irreducible" list of companies it funded.
He said: "The arts council at least has been shrewd enough to put it own house in order. It's actually shed jobs over the last few years."