China's factories hit by wave of strikes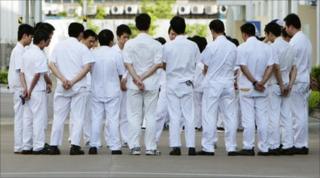 Industrial unrest has been spreading through China's factories, with strikes breaking out in the south, east and north. China correspondent Damian Grammaticas has been to the industrial heartland in southern Guangdong province to examine why the strikes are happening and what the implications are.
It is 0730 local time in Shenzhen, China's factory heartland, and rush hour for the workers.
The pavements are thronged, packed with people heading for the morning shift. They wear uniforms, red T-shirts for one factory, blue for another, white for another.
It all looks orderly, but there are stirrings of discontent here at the heart of China's manufacturing industries.
Strikes have been rippling from factory to factory. There have been at least a dozen in the past few weeks. Outside Merry Electronics in Shenzhen earlier this month, workers blocked the road.
Footage taken with a mobile phone shows them pushing and shoving in a face-off with government security officers.
"Why are you beating us?" the workers shout. Almost all are young, teenagers or in their 20s, migrants from China's countryside. With a megaphone the officers shout back: "Don't act illegally."
Now they are back at work at the Merry factory. Outside the gates at 1930, the day shift is knocking off and hundreds of people are filing past.
'Unprecedented'
The strike is a really sensitive subject. One striker, Mr Wang, who is 20 years old and comes from central China, tells us he was involved.
The strike, he says, was spontaneous, triggered by anger that the factory was not paying overtime rates for work at weekends. So for labouring seven days a week, 11 hours a day, the migrants were earning less than a dollar an hour.
"Lots of workers are unhappy with their pay," Mr Wang says. "Even those who have been here for years get just the minimum wage like newcomers. At least striking together got attention for our cause."
The workers negotiated directly with Merry's managers. In this nascent labour movement, the strikers are disorganised, with no leaders, no agreed set of demands. They settled for an assurance that wages will go up modestly.
Some recent strikers, beginning with one at a Honda car plant, have demanded the right to elect their own union representatives as they say the official Communist Party-controlled unions do little for the workers.
Li Zhao, of China Labour Watch, says this new demand is a radical departure.
"Honda's strike was quite unprecedented. In recent years we haven't seen this demand to form trade unions.
"But at Honda the workers demanded not just a pay rise of over $100 (£66) a month, but also that they be allowed to elect their own union representatives because the official union didn't help them at all."
'So angry'
One company that has come under scrutiny because of its working conditions is Foxconn.
At its giant plant in Shenzhen vast factory buildings stretch into the distance. About 400,000 people work at this site. There has been a spate of suicides here in recent months.
Foxconn's production lines churn out iPhones and iPads for Apple, along with products for other big-name brands. Its army of workers are regimented and disciplined.
But Foxconn has been forced to promise a near doubling of wages after the recent deaths among its workforce.
In a tiny, cramped flat we met the family of Ma Xiangqian, the first worker to die this year. He was 19 years old. His sister Ma Liqun says he was not happy at the factory.
She shows me his Foxconn pay slips. They record he worked an average of almost 10 hours a day, and his total pay averaged around a dollar an hour. She worked at Foxconn too.
"I had to weld electronic parts," says Ma Liqun. "Our supervisor stood behind with a stopwatch timing us, we were allowed three seconds exactly for the welding tool to heat up each time.
"If we got it wrong, sometimes we had to write a self-criticism and read it out loud in front of our colleagues. A girl cried once doing that. We worked under huge pressure."
Her father, Ma Zishan, a farmer, sent his three children to work in Guangdong's factories, hoping his son would prosper and provide for the family in coming years.
"He was my only son," says Mr Ma through his tears "He was never any trouble. Now we don't have a son to support us in the future.
"We are so angry about it, and we regret so much sending him out to work. Just thinking about it makes me more and more unhappy."
'More rebellious'
All of this amounts to growing pressure for wages in China's factories to rise and they are creeping up, which may, slowly, feed into higher prices for products in the West.
After 20 years of China's manufacturing boom, a new, younger generation of workers has emerged with greater expectations than their parents and they are starting to assert themselves.
Duan Yi is a lawyer who has advised some of the recent strikers.
"The new generation of workers born in the 80s and 90s are not like their parents," he says. "They want to make a life in the cities. So they are becoming better organised and more rebellious than ever before. "
But any change will only come slowly to China's massive manufacturing industries.
The streets of Shenzhen are still packed with migrant workers. The flow of people coming here from the countryside is never ending.
Behind them there is still a pool of millions and millions.
And even if the workers do not like the wages they are being paid, more will still keep coming looking for opportunities they cannot find in China's inland provinces.