Q&A: Incapacity benefits explained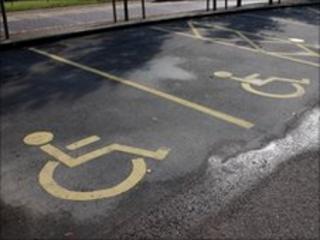 Ministers looking to make savings have set their sights on the bill for incapacity benefit - but how does the system work at present?
Some 2.6m people claim incapacity benefit, or its successor, the employment and support allowance, at an annual cost of about £12.5bn.
Chancellor George Osborne says that this amount could be cut, while protecting "those with genuine needs".
So what are the basics?
What are the benefits?
People facing illness or disability before 27 October 2008 will be claiming incapacity benefit - which is gradually being phased out by 2014.
It is being replaced by the employment and support allowance, which aims to get people into some kind of work.
How does the new allowance work?
There are two phases. The first is an assessment phase rate paid for the first 13 weeks of a claim while a decision is made on capability for work.
During this period a single person aged under 25 gets up to £51.85 a week. A single person aged 25 and over gets up to £65.45.
The second, and main phase, starts after 13 weeks if the assessment shows that an illness or disability does limit the claimant's ability to work.
People are expected to have interviews with a personal adviser. Others whose illness or disability severely affects their ability to work are placed in a support group.
A single person in a work group gets up to £91.40 a week. A single person in the support group gets up to £96.85.
This money is usually paid directly into a bank account.
How does incapacity benefit differ?
Incapacity Benefit is paid at three weekly rates:
The short-term lower amount of £68.95 (or £87.75 for those aged over the state pension age) is paid for the first 28 weeks after a claim.
The short-term higher amount of £81.60 (or £91.40 for pensioners) is paid from week 29 for the remainder of the first year.
Long-term incapacity benefit of £91.40 is paid from week 53. Pensioners are not eligible for this.
How is an illness or disability assessed for benefit eligibility?
After an initial benefit claim, the claimant has to complete a questionnaire about how the illness or disability affects their ability to complete everyday tasks. Their doctor may also be asked to provide a medical report.
An approved healthcare professional will then consider the questionnaire and any medical reports, along any additional information provided by the claimant.
If he or she feels that the Department for Work and Pensions will need more information to make a decision on the benefit claim, they will recommend that the claimant attends a face-to-face medical assessment at a local medical centre.