Guernsey hospice demolished ahead of new building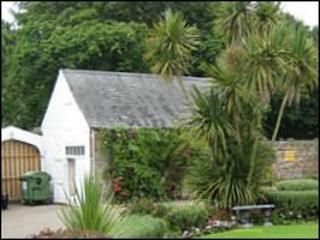 The demolition of Guernsey's old hospice in St Andrew has been completed.
Les Bourgs Hospice, which has helped thousands of terminally ill people and their families over the past 18 years, is being replaced and expanded.
The new building will include ensuite bedrooms, family rooms, day hospice and an outpatient consulting room.
The hospice governors will now appoint a redevelopment appeal manager to help raise the £4m needed for the work.
Fundraising has been taking place for several years and £1m has already been raised by volunteers.
Landscaped gardens
Jurat Mike Tanguy, chairman of governors said: "Now that building work has begun, we have just 18 months to complete the construction and fit out and ensure that we have a hospice which is ready to receive patients.
"We have been able to start the work using the money already generously given by islanders but this will soon run out and we will then have to start using our reserves which are meant to cover the costs of running the hospice.
The governors hope employing an appeal manager will enable them to reach the £4m target before work is completed.
The improved hospice building will also have a chapel and landscaped gardens.
The work of the hospice's "amazing, dedicated team" would be enhanced by its appropriate new working environment, Jurat Tanguy added.
While building work takes place, hospice patients have been relocated to empty wards in the Princess Elizabeth Hospital.