Llangattock fits first solar panels after contest win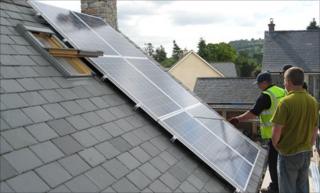 Solar panels are being fitted to the first of possibly 50 Brecon Beacons homes after a village won a competition to cut energy consumption.
Llangattock Green Valleys project won the Welsh final of the British Gas Green Streets challenge last November.
It is hoped that up to 50 homes in the village, near Crickhowell, could eventually benefit from domestic solar photovoltaic (PV) systems.
A micro-hydro scheme to supply 60% of its electricity is also planned.
The village scooped a first prize of £140,000 when it won the competition in November.
The community pitched energy-saving ideas to judges.
The first PV system is being installed at the home of the Butterfield family, Michael, Ruth, and their three sons, Morgan, Iolo and Osian.
The family will be able to generate around half of their electricity needs from the sun.
'Inefficient boilers'
Lee Barlow, the Green Streets project manager, said: "Some of the householders involved in the challenge are opting for better insulation, or to replace old, inefficient boilers, which are two of the key things that can really help you save energy.
"But the Butterfield family live in a modern, well-insulated house, and they've already done pretty much everything they can do to reduce their energy use - so generating their own clean energy was the next logical step."
The Butterfields' PV system will cost £6,500 - with £4,000 coming from the green streets funding. The remaining £2,500 will come from a grant from the Low Carbon Buildings Programme.
Michael Butterfield said: "We started our personal energy-saving journey four years ago, and at that point we were using around 4,000kW of electricity a year.
"With some simple changes we've managed to cut this right back - and this year we're expecting to use only around 1,600kW."
The British Gas green streets challenge is investing £2m in 14 UK communities to help support innovative energy-saving projects and carbon reduction.
More than 50 of Llangattock's 420 homes could be fitted with PV panels by the end of the year, with at least 10 funded through the green streets challenge, and 41 via a partnership between Powys council and British Gas.