Work on Norfolk offshore wind farm starts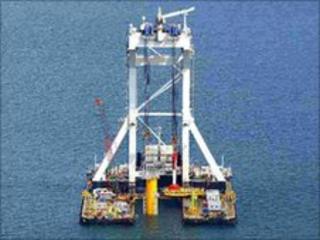 The first foundation for a wind farm off the Norfolk coast has been laid.
It is the first of 90 foundations to be laid on the Sheringham Shoal wind farm over the next nine months. A total of 88 wind turbines will be built by 2011.
The rest of the foundations will now arrive in a sequential order, having been delivered from Vlissingen in the Netherlands to Great Yarmouth.
The foundations will measure between 164ft (50m) and 180ft (55m) and weigh between 400 to 600 tonnes.
Project director Rune Ronvik said it was a major milestone marking the culmination of many years planning.
"The licence for the wind farm site was granted in 2004 and so it is a great achievement to now be at the stage where we are starting a continuous process to install the 90 required foundations."
The Sheringham Shoal Offshore Wind Farm is owned equally by Statoil and Statkraft through the joint venture company Scira Offshore Energy Limited.