House prices fell in May, Land Registry says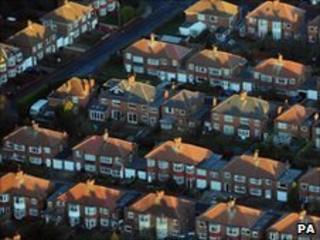 House prices in England and Wales fell by 0.2% between April and May, according to the Land Registry.
The annual rate of price change also fell, with prices 8.2% higher in May from a year ago, against 8.5% in April.
The average property value in England and Wales is now £165,314, according the Land Registry's figures.
The fastest annual increase was seen in London where prices rose 14.2%, while the smallest annual rise was in the North East with an increase of 1.8%.
The figures tell a similar story to the most recent survey from the Nationwide building society.
It also found annual house price inflation fell in May, from 10.5% to 9.8%.
In terms of monthly changes, the Land Registry said the South East saw the biggest rise with prices up 0.9% in May, while the East Midlands saw the largest price fall of 3.6%.
The most up-to-date figures available show that during March 2010, the number of completed house sales in England and Wales rose by 37% to 48,577 from 35,449 in March 2009.