Toy Story 3 holds on to top spot at US box office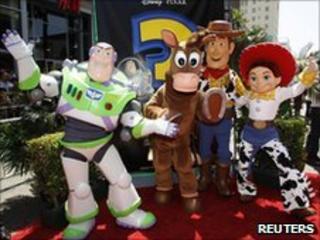 Toy Story 3 held on to the number one spot on the US box office chart for a second weekend, estimates suggested.
With takings of $59m (£39.1m), it held off competition from Adam Sandler comedy Grown Ups, which was a new entry at number two, taking $41m (£27.2m).
Tom Cruise's latest movie, Knight and Day, could only manage third place in its first weekend with takings of $20.5m (£13.6m).
The Karate Kid was knocked into fourth place.
A remake of the 1980s TV series The A-Team slipped from third to fifth spot.
Russell Brand's comedy Get Him To the Greek slipped to sixth with $3m (£2m), with Shrek Forever After in seventh position.
Prince of Persia: The Sands of Time, starring Jake Gyllenhaal, dropped two places to number eight.
Katherine Heigl and Ashton Kutcher film Killers was ninth, with takings of $2m (£1.3m).
Comic book adaptation Jonah Hex dropped to number 10 following its disappointing debut last weekend.
According to Hollywood.com, summer cinema audiences are down by nearly 11%.
Takings should get a boost, however, when The Twilight Saga: Eclipse, opens on Wednesday ahead of the 4 July weekend, traditionally one of the busiest times for US cinemas.