Dounreay spanners for Strathspey Steam Railway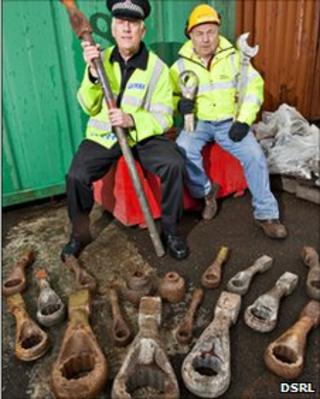 Spanners used in the demolition of a nuclear power plant are now helping to refurbish a steam engine.
Made to imperial measurements, the tools loosened nuts and bolts at Dounreay in Caithness which modern metric equipment could not.
The spanners were to be scrapped as they were no longer needed.
However, they have been donated to Aviemore's Strathspey Steam Railway for use in the renovation of an engine rescued from a scrap yard in Wales.
The tools' potential was spotted by the railway association's membership secretary Bill Johnson, a Civil Nuclear Constabulary officer at Dounreay.
Volunteers are renovating engine No 46512 which was built in Swindon in 1952, but has lain in a scrap yard since 1967.
The railway association had struggled to find imperial tools big enough for use on seized up nuts and bolts.