Belgium Church abuse panel quits in protest at raids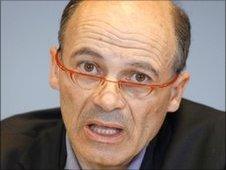 A Catholic Church-backed commission of inquiry into clerical sexual abuse in Belgium has announced it is shutting down in protest at police raids.
Commission head Peter Adriaenssens said the commission had been used as "bait" by state prosecutors.
Offices were searched last week and all of the panel's 475 case files removed.
Many of the files removed contained information from alleged abuse victims who had spoken in confidence.
Mr Adriaenssens, a child psychiatrist who only took over eight weeks ago, expressed concern at what could have motivated the authorities.
"They could only act in that way with the sentiment that we were in the wrong or that we were trying to conceal the cases," he said.
"This while I made a point of working in complete transparency."
Three raids were carried out on Thursday at the request of the Brussels prosecutor's office.
Searches were conducted at the archbishop's palace and the home of a former archbishop.
A number of bishops were detained for questioning and their phones, computers and other materials confiscated, a lawyer for the Mechelen-Brussels archdiocese said.
The Belgian Church was shaken in April when the Bishop of Bruges, Roger Vangheluwe, resigned and admitted to having sexually abused a boy before and after becoming a bishop.
"I'm mostly shocked for all these people who gave us their trust," said Mr Adriaenssens.
"And up until [Wednesday] evening, if they'd asked me is it possible that they [the police] would arrive and take everything away, just take everything away, I would have reassured them [that this would not happen]."
He added that people who had spoken to the commission in confidence were "panicking".
"We received e-mails, telephone calls in the past few hours from people who are panicking about what will happen with their private details," he said
"Will their parents find out? Will they read their story in the newspapers? Will their spouse, who wasn't really aware, now find out via the media or the justice department?"
On Sunday, Pope Benedict XVI denounced the raids as "deplorable".
Belgian Justice Minister Stefaan De Clerck responded to criticism robustly, saying normal procedures were followed.
"We must not turn this into a diplomatic incident," he said.
"The bishops were treated completely normally... and it is false to say that they received no food or drink."