Colourful tycoon trio set to take over Le Monde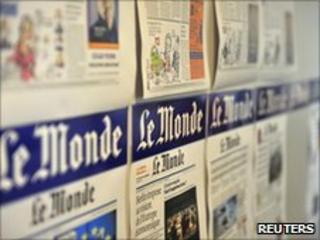 An unlikely trio of tycoons is set to take over the prestigious French newspaper Le Monde after a rival consortium said it was pulling out.
The publication is facing hard times and is looking for a sizeable cash injection to restore its fortunes.
A consortium led by France Telecom-Orange decided to withdraw following a lack of support from the paper's key shareholder, the journalists' union.
The newspaper board is due to meet later for a final vote on the bids.
Union strength
The consortium made up of France Telecom, Le Nouvel Observateur magazine owner Claude Perdriel and Spanish media group Prisa (publisher of El Pais) will announce it is withdrawing its bid after the meeting on Monday.
"Out of respect for Le Monde's board members, Orange [France Telecom] as well as Le Nouvel Observateur agreed to maintain its offer until the Le Monde's supervisory board meeting on Monday, 28 June," France Telecom said in a statement.
"However, Orange and Le Nouvel Observateur have agreed to withdraw their offer after the meeting, regardless of its outcome, as they had committed to do so in the event of an unfavourable vote from Le Monde's journalists' union."
On Friday, the newspaper's staff overwhelmingly backed an ownership bid from a trio of business tycoons led by Lazard banker Matthieu Pigasse.
The newspaper's journalists were given a controlling ownership stake - and the right to sack the editor - when the daily was founded by Hubert Beuve-Mery in 1944.
Sarkozy involvement
It is a brutal new world for newspapers, who are finding it increasingly difficult to compete with new media and 24-hour news, says the BBC's Christian Fraser in Paris.
The paper is in a race to recapitalise and must find a buyer by the end of the month or risk running out of money to pay its journalists during the summer.
The winning consortium also includes Pierre Berge, the former business partner of late fashion designer Yves Saint Laurent, known to be a patron of the left and close to possible rival presidential candidates in 2012, our correspondent says. The third partner is internet tycoon Xavier Niel.
France Telecom was bidding for a 20% stake in the newspaper and tried to convince Le Monde staff that their bid offered the best chance of rescuing the title, while preserving its editorial independence.
Political tension
But France Telecom's involvement in a Le Monde rescue is controversial because it is part owned by the French state, and its participation follows a move by President Nicolas Sarkozy to bring down a rival bid, our correspondent adds.
The chief executive of France Telecom denies intervening at the president's request.
Mr Sarkozy is reported to have summoned the paper's chief executive to the Elysee presidential palace earlier this month to protest against a sale to this consortium, threatening to withhold state subsidies if the sale went ahead.
The president reportedly told Eric Fottorino he opposed the Berge-Pigasse-Niel bid because of their ties to France's left wing, drawing accusations from the opposition Socialist Party that Mr Sarkozy was threatening press freedom.
Shareholders have examined the bids and the newspaper's supervisory board will choose a new owner on Monday.