Network of £5-only cash machines launched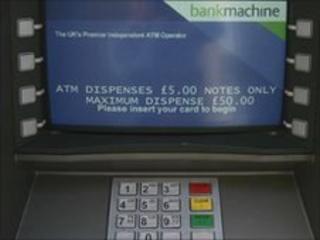 A network of cash machines that only dispense £5 notes has been launched in the UK.
Some 21 machines, run by the ATM operator Bank Machine, have been installed following two years of pilot schemes in London.
These particular ones are free to use, although there is an average £1.50 fee per withdrawal at 2,300 of Bank Machine's other 3,000 ATMs.
The Bank of England has been trying to get more £5 notes into circulation.
Consumers and retailers have argued that it is difficult to get hold of any, and then retain them through the day.
Some £1.3bn worth of £5 notes were in circulation in the UK at the last count in 2009, according to Bank of England figures.
Network
The 21 new £5-only machines will be housed in Martin McColl newsagents.
They can be found in Manchester, Stroud, Oakham, Oxford, Cardiff, Paddock Wood, St Mellons, Portsmouth, Strathaven, Axminster, Newton Abbott, Banchory, Swaffham, North Walsham, Penzance, Cannock, Crosby, Beaconsfield, Lower Early, Market Rasen, and Fleet.
They will distribute £5 notes irrespective of how much is withdrawn.
"There is cast iron proof that cash - and small denominations in particular - help people to budget, especially now during these financially stretching times," said Ron Delnevo, managing director of Bank Machine, which is part of the Cardtronics group.
Andrew Bailey, chief cashier at the Bank of England, said: "The Bank has several projects under way to meet public demand for more £5 notes.
"One of these aims at encouraging the industry to include £5 notes in their ATMs - the front line of cash provision to the public."