Panama's Noriega tried in France over 'drug money'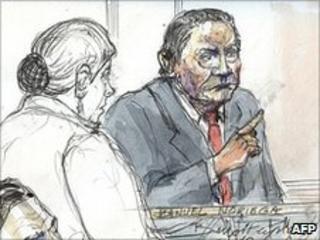 Former Panamanian leader Manuel Noriega has gone on trial in Paris for money-laundering in a case which could put him in jail for another 10 years.
Now believed to be 76, the man who ruled Panama from 1981 to 1989 was extradited from the US in April after two decades in prison for drug-trafficking.
A French court sentenced him in his absence to 10 years in 1999.
France agreed to give him a new trial if he was extradited from the US.
The trial is due to last three days. However, the verdict is not expected to be announced for several months, AFP news agency reports.
Birth discrepancy
The former strongman is now frail and decrepit, so much so that he even stumbled recalling his date of birth, the BBC's Christian Fraser reports from Paris.
When asked about the discrepancies, first he said 1936, then corrected himself to state he had been born in 1934.
Noriega's three daughters were seated nearby in the small courtroom
The former leader denies laundering 15m francs (2.3m euros, $2.8m, £1.9m) in the late 1980s from Colombia's Medellin cocaine cartel through the now defunct Bank of Credit and Commerce International.
The money was allegedly used by his wife Felicidad and a shell company to buy three luxury apartments in Paris. The properties have since been seized by the French state.
If Noriega goes to jail in France, our correspondent says, it may be a frustration to the authorities in Panama who want to see him stand trial in his own country for the alleged torture and murder of opponents.
Noriega became Panama's de facto president in 1983 and was supported by the US until 1987. But in 1988 he was indicted in the US for drug-trafficking.
The US invaded following the death of a US marine in Panama City and Noriega surrendered on 3 January, 1990, after which he was brought to the US for trial, then imprisonment in Miami.
Prison complaint
Noriega's lawyers argue that French courts cannot try him because he is immune from prosecution as a former head of state.
Since his transfer to France on 26 April, they have been trying to have him released from the Sante prison in Paris, arguing he is being held in inhumane conditions.
One lawyer, Yves Leberquier, read out a report by an EU human rights commissioner describing the state of the prison as "at the limits of human dignity".
Noriega's cell measures 2m by 3m (7ft by 10ft), Mr Leberquier said.
He added that his client had been asking to see a doctor for two months and had yet to see one.
According to the lawyer, Noriega suffers from blood pressure problems and is paralysed on the left side because of a stroke four years ago.